Equality Act Brief
Publish date:
July 2021
Source:
SAGE & Movement Advancement Project (MAP)
Topics:
Discrimination
,
Legal & Financial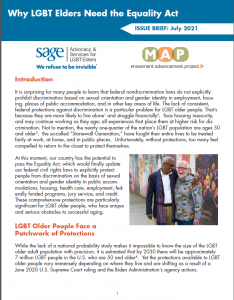 At this moment, our country has the potential to pass the Equality Act, which would finally update our federal civil rights laws to explicitly protect people from discrimination on the basis of sexual orientation and gender identity in public accommodations, housing, health care, employment, federally funded programs, jury service, and credit. These comprehensive protections are particularly significant for LGBTQ+ older people, who face unique and serious obstacles to successful aging.
Download this Equality Act Brief to learn more about this essential legislation.