SAGEVets Newsletter Summer 2021
Publish date:
August 2021
Source:
SAGE
Topics:
Legal & Financial
,
LGBTQ+ Aging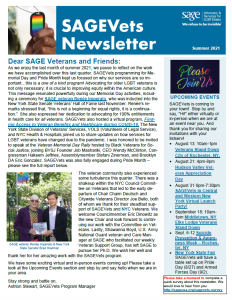 SAGEVets is a NY state program to help lesbian, gay, bisexual, and transgender older adults who are veterans of military service improve their access to the VA and other veteran services, as well as support their overall health and wellness.
Check out the summer issue of the SAGEVets newsletter for important updates and information!
Download the PDF for more information.