Care can't wait. The Trump administration's efforts to allow religious-based discrimination could put the lives of millions of LGBT elders at risk.
28
SAGE AFFILIATES
IN THE U.S.
Is there a SAGE near you? SAGENet affiliates work at the local level to enhance the lives of LGBT elders.
33K+
STAFF TRAINED BY SAGECARE
SAGECare provides LGBT cultural competency training for staff at long-term and other care facilities.
For decades, SAGE has been fighting—and winning.
Since 1978, we've worked to ensure a fulfilling future for LGBT people as we age.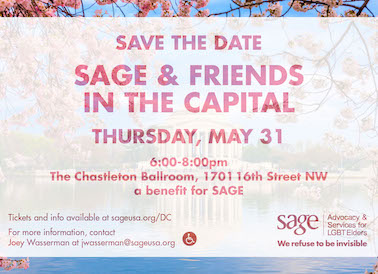 May 31, 2018, 6pm to 8pm
Washington, D.C.
Mix and mingle with DMV-area supporters and join SAGE in its mission to help LGBT elders.