UPLIFT LGBT CAREWORK IN THE AMERICAN JOBS PLAN
Publish date:
May 2021
Source:
SAGE & Movement Advancement Project (MAP)
Topics:
Caregiving
,
Legal & Financial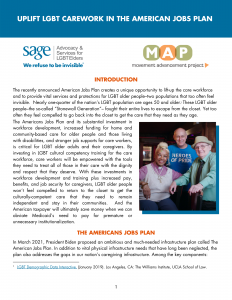 The recently announced American Jobs Plan creates a unique opportunity to lift up the care workforce and to provide vital services and protections for LGBT older people–two populations that too often feel invisible. Nearly one-quarter of the nation's LGBT population are ages 50 and older. This info sheet discusses how we can best support LGBT elders through the Americans Jobs Plan.
Download the PDF for more information.