Long-Term Care Equality Index 2021
Publish date:
June 2021
Source:
SAGE & HRC
Topics:
Caregiving
,
Cultural Competency
,
Health Care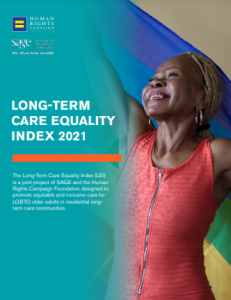 The Long-Term Care Equality Index (LEI) is a program of SAGE and the Human Rights Campaign Foundation (HRCF). The goal of the LEI is to create a network of LTCCs across the country that are providing a welcoming home for older LGBTQ+ people.
As of the release of this initial report, there have been 78 "Commitment to Caring" pledges completed, which is the first step in the LEI and indicates long-term care communities' intentions to adopt LGBTQ+ inclusive and culturally competent policies and practices. Additionally, there have been 49 self-assessments completed for 184 diverse long-term care communities, with 32 states represented.
Download the PDF for more information.