"LGBTQ+ elders are still here. I'm still here."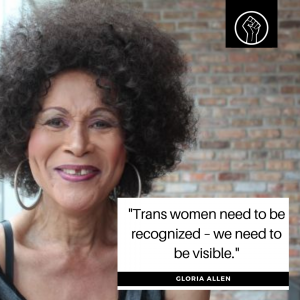 As the final piece of our Black History Month series, we are sharing insight from noted trans activist and icon Gloria Allen, most commonly and affectionately known as Mama Gloria.
Mama Gloria lives at the intersection of being a Black trans woman and an elder, a perspective that is seldom represented during Black History Month. She is an inspiration and mentor to Chicago's Black transgender community. Her experience of coming out in the 1960s and being immersed in Chicago's South Side drag ball culture inspired her to become a proud leader, activist, and mentor in her community. Which is why, in her elder years, Mama Gloria founded and operated a charm school for homeless transgender youth at Chicago's Center on Halsted, offering lessons on love, makeup, and manners that she received from her mother and grandmother. She is also the subject of Luchina Fisher's documentary "Mama Gloria," which chronicles her life and highlights the influential relationships she has with her family, friends, and chosen children.
SAGE had the pleasure of working with Mama Gloria on our Be You campaign for National Coming Out Day with GenderCool and Dell Technologies, featuring LGBTQ+ elders and trans kids talking about the importance of living as your true self.
Mama Gloria was also awarded the Carmen Vázquez SAGE Award for Excellence in Leadership on Aging Issues at the 2021 National LGBTQ+ Task Force Creating Change virtual conference.
At 75 years old, Mama Gloria is a shining example of one of the countless vibrant and resilient LGBTQ+ pioneers who have been advocating since Stonewall – many who are also trans people are color – and still passionately advocating for change.
Who is your LGBTQ+ role model and why?
My LGBTQ+ role model is Wilbur 'Hi-Fi' White, who was an entertainer in Chicago when I was a teenager. He would host balls that I'd attend and he was so talented. He was in movies and TV, he told jokes, he sang, he acted. He was such an inspiration to me as someone who was part of the community, and who gave me and others the space to be who we are. I would love more people to know about him.
What did it mean to you to see Kamala Harris become not only the first woman, but also the first Black woman Vice President?
I was so glad that Biden chose a Black woman as his Vice President, and that the election went the way it did. The fact that Black women like Vice President Harris are getting the chance to step up and be recognized in this way is awesome. With Vice President Harris and the rest of the new administration, there are so many doors being opened for other leaders to be recognized, too. The fact that there is a transgender woman, Rachel Levine, nominated to be the assistant secretary of health is just so amazing. More and more, members of our community are getting recognized for our work and I'm so proud of that. We still have a long way to go, but these steps are wonderful.
Lastly, what is something you are particularly passionate about as an advocate in the LGBTQ+ community?
I'm an advocate for fighting against violence toward LGBTQ+ people, especially trans women. Black trans women are being murdered at an alarming rate and they don't televise it on the news. We see coverage of other crimes, but not enough about what's happening for LGBTQ+ people. The news needs to start doing a better job of fully exposing this pattern of hate and violence, and so do politicians.
Trans women need to be recognized – we need to be visible. There are too many instances of trans people be portrayed in media in ways that don't accurately represent our community. We need to be more included in all media, not just special characters on TV shows. People need to see that trans people are much more than what they've seen on TV. We are so talented, and smart, and educated, and they need to see that – including us elders. The elders are still here. I'm still here.
Looking for ways to get involved? Share your story by becoming a SAGE Spokesperson today.