Join us! Celebrate Pride In Place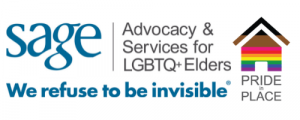 SAGE is proud to introduce #PrideInPlace, our virtual Pride campaign for 2020. Pride in Place is a way to celebrate Pride and the 50th anniversary of our country's first Pride March, while honoring the defiance and resilience that were driving forces at historical protests like Stonewall.
Wherever you are, whether it's a physical location, your place in life, your place in the community, or your place in the history of the movement. This is an affirmation – no matter where you are or what is going on in the world, pride is a state of mind, and will continue to flourish against all odds. Click here for a listing of our virtual events and please join in!
In these unprecedented times, #PrideInPlace is being celebrated across the diverse communities of our partners in the Diverse Elders Coalition. The coalition is made up of 6 member organizations including the National Asian Pacific Center on Aging (NAPCA), National Caucus and Center on Black Aging (NCBA), National Hispanic Council on Aging (NHCOA), National Indian Council on Aging (NICOA), SAGE, and Southeast Asia Resource Action Center (SEARAC). Learn how these communities are honoring Pride and elevating the voices of LGBTQ+ elders across the country.
Resources:
Get Involved!
We invite you to join us in celebrating our LGBTQ+ elders and our community's rich history of resilience!
Showcase our community's vibrant, fabulous diversity by sharing your #PrideInPlace story. In your own words, tell us what Pride in Place means to you and what you're doing to celebrate this month. Watch SAGE CEO Michael Adams or Wilfred Labiosa, Executive Director of SAGE Puerto Rico and then respond to their videos by clicking the video icon to create your own response!
 Be sure to check out this video of amazing testimonials, and then make your own!
Have more to say? Let us know on social by using the #PrideInPlace hashtag (don't forget to tag @sageusa!). If you're looking for inspiration, take a look at our Pride in Place social media toolkit.
Meet others in the LGBTQ+ community and make connections through our virtual Pride programming! SAGE seeks to provide a positive space for LGBTQ+ elders and allies to both celebrate and honor our community's history – both virtually and telephonically. The calendar will be regularly updated with new events, so be sure to check back throughout the month of June.
– – – FEATURED EVENT – – –
A SECRET LOVE Documentary Q&A
Tuesday, June 30 | 6 pm ET
SAGE is proud to be partnering with Netflix for a Q&A with the talent of A SECRET LOVE – Netflix's original documentary covering the incredible 72-year love story of Pat Henschel and Terry Donahue, and their decision to come out to the world later in life. Join us for the chance to discuss the film and its greater social impact with the film's director, Chris Bolan, cast members Pat Henschel and Diana Bolan, and Kim Hunt, Executive Director at Pride Action Tank.
Registration Closed
– – – ALL EVENTS – – –
Pride Month Closing Celebration with NYC Bar Chorus
Tuesday, June 30 | 7:30 to 8:30 pm ET
Join the NYC Bar Chorus for an evening of songs to close out this year's Pride Month. The concert will feature pride related solos from chorus members, creative performances from the full chorus recorded via Zoom, and an opportunity for SAGE members to sing some of their favorite songs inspired by Pride!
Registration Closed
Sparkle Pride Burlesque Spectacular hosted by World Famous *BOB*
Friday, June 26 | 7 to 8 pm ET
Join the fabulous World Famous *BOB* for a star studded burlesque show to kick off the NYC Pride weekend! Featuring performers from the House of Famous, including Kitty Von Quim, Bobby Barnaby, Siomai Moore, Precious Ephemera, Freddie Love, and of course Matt Knife.
Registration Closed
NYC Pride Virtual Rally
Friday, June 26 | 5 to 8 pm ET
Hosted by trans journalist Ashlee Marie Preston and trans actor Brian Michael Smith, join community activists, organizers, politicians and more as we take a stand against police brutality and discrimination. Show up in force as a community to change the future and make your voice heard in this re-imagined Rally experience.
Registration Closed
Poems of Pride
Thursday, June 25 | 6 to 7 pm ET
Enjoy an evening of poetry on the theme of Pride! SAGE members have developed these poems over the course of three workshops with Generations Project facilitator Kan Seidel. Bring your own pride related poetry to share as well!
Registration Closed
Poetry Workshop
Thursday, June 25 | 4:30 to 6 pm ET
During this workshop series, we will read and discuss poems by different LGBTQ+ writers and explore the theme of "Pride" through our own writing in various styles of poetry. There will be opportunities to share and get feedback from the group, and participants can attend just one or multiple workshops. This is the third in a 3 part series reoccurring every Thursday of June that will culminate in a live "Poems of Pride" poetry reading on Thursday, June 25th from 5-6 pm.
Registration Closed
Documentary Screening & Discussion w/ Gena: The Death & Life of Marsha P. Johnson
Wednesday, June 24 | 2 to 4:15 pm ET
Join SAGE staff member Gena Hymowech for a screening and discussion of The Death & Life of Marsha P. Johnson, a  Netflix documentary that investigates the mysterious death of beloved Stonewall Riots legend and black transgender activist Marsha P. Johnson.
Registration Closed
Women's Pride Intergenerational Social
Wednesday, June 24 | 6 to 7:30 pm ET
Celebrate Pride with an intergenerational group of SAGE members and younger LGBTQ+ women. The event will be co-hosted by The Addresses Project (an art project focused on documenting lost lesbian spaces in NYC) and WMN Zine (a publication of lesbian art & poetry). Come share your favorite memories of Pride, experience some of the art and poetry of a new generation of LGBTQ+ women, and engage in important discussions about the past and the future of the lesbian and queer women's community.
Event postponed 
Info Session for Reclaim Pride's "Queer Liberation March for Black Lives & Against Police Brutality"
Tuesday, June 23 | 1 to 2 pm ET
The Reclaim Pride Coalition, which organized last year's Queer Liberation March as a counterpoint to a heavily corporatized and policed Pride Parade, will be focusing this year's Queer Liberation March on elevating and protecting Black Lives. Join Paul Nocero and other core volunteers for an information session about this year's march and how you can support and/or participate in it. They'll also discuss the radical origins of the 1970 Christopher Street Liberation Day March and what it means to reclaim and transform that radical spirit for our current movements for equality and liberation.
Registration Closed
SAGE joins the Poor People's Campaign virtual march
Saturday, June 20
SAGE is a proud participant of the The Mass Poor People's Assembly & Moral March on Washington. On June 20th, the Poor People's Campaign will hold the largest digital and social media gathering of poor and low-wealth people, moral and religious leaders, advocates, and people of conscience in this nation's history.
Registration Closed
Netflix Premier of Disclosure
Friday, June 19
SAGE is proud to partner on the launch of the Netflix documentary Disclosure. This film, about and by trans people, uncovers histories and stories of life in front of and behind the camera, and provides insight into working against dehumanization in the media.
Learn more
Pride Poetry Workshop
Thursday, June 18 | 4:30 to 6 pm ET
During this workshop series, we will read and discuss poems by different LGBTQ+ writers and explore the theme of "Pride" through our own writing in various styles of poetry. There will be opportunities to share and get feedback from the group, and participants can attend just one or multiple workshops. This is the second in a 3 part series reoccurring every Thursday of June that will culminate in a live "Poems of Pride" poetry reading on Thursday, June 25th from 5-6 pm.
Registration Closed
Protest, Power, and Pride in 2020: None of Us Is Free Until All of Us Are Free
Wednesday, June 17 | 5 to 6 pm ET
Matthew Riemer and Leighton Brown, co-creators of Instagram's @lgbt_history, and co-authors of We Are Everywhere: Protest, Power, and Pride in the History of Queer Liberation, use imagery and narrative culled from years of research to draw connections between the struggles and triumphs of the queer past and present with an eye toward a more liberated future.
Registration Closed
America's Burning: a discussion of George Floyd, the protest and healing
Friday, June 12 | 2 to 3 pm ET
Donna  Sue Johnson, LCSW will generate a honest discussion on the feelings and reactions generated by the death of George Floyd, the Protests, and how we can come together for support as a community.
Registration Closed
Pride Poetry Workshop
Thursday, June 11 | 4:30 to 6 pm ET
During this workshop series, we will read and discuss poems by different LGBTQ+ writers and explore the theme of "Pride" through our own writing in various styles of poetry. There will be opportunities to share and get feedback from the group, and participants can attend just one or multiple workshops. This is the first in a 3 part series reoccurring every Thursday of June that will culminate in a live "Poems of Pride" poetry reading on Thursday, June 25th from 6-7 pm.
Registration Closed
Programming for LGBTQ+ Elders: COVID-19 Challenges and Solutions
Thursday, June 11 | 2 pm ET
Learn how national and local experts are rising to the challenge of providing programming and meeting the needs of LGBTQ+ elders during the pandemic and beyond.
Registration Closed
Community Reading Group: To The End of the World
Saturday, June 10 | 6 pm ET
For LGBTTQ+ Pride Month, SAGE Puerto Rico and Waves Ahead invite you to their Community Reading Group with the participation of José Ignacio Valenzuela (Chascas) and his wonderful book, To the End of the World. Enjoy an hour of unforgettable reading and discussion with our beloved Chascas. The books are in Spanish and English and this discussion will be in English. All are welcome!
Grupo Comunitario de Lectura: Hacia el fin del mundo
José Ignacio "Chascas" Valenzuela regresa por segunda ocasión para hablarnos de otro de sus libros que forma parte de la TRILOGÍA DEL MALAMOR: Hacia el fin del mundo. Disfruta juntos a nosotros una hora íntima y especial. ¡Separa tu espacio hoy!
Registration Closed
Writing Workshop with Gena: What Pride Means to Us
Wednesday, June 10 | 1:30 to 2:30 pm ET
This year, Pride will not be happening in person, but it doesn't mean we can't reflect on what Pride (this pride or past prides or just the concept of pride in general) means to us. Do you remember your first Pride parade? What was it like? Were you happy, excited, wistful, in love? What did Pride mean to you back then and what does it mean to you now? Join staff member and writer Gena Hymowech for a writing workshop exploring the changing meaning of Pride through the years.
Registration Closed
Stonewall was a Police riot! How to Support the Movement for Racial Justice and the Movement Against Police Brutality
Tuesday, June 9 | 1:30 to 3 pm ET
In this workshop we'll look at the vast number of ways that every person can support the Movement for Racial Justice and the Movement against Police Brutality, happening across the world right now. You don't have to be in the streets to be in solidarity! We'll also discuss what white and non-black people of color can specifically be doing right now, as well as some of the biggest questions currently in the media, including: What is Antifa? Is defunding or abolishing the police possible? What are alternatives to policing?  What role does looting/property destruction have within these protests? Bring your suggestions, questions, and willingness to learn, grow, and maybe even change your mind.
Registration Closed
SAGE 2020 Virtual Pines Celebration
Saturday, June 6 | 4 to 5 pm ET
Annual SAGE celebration of Fire Island Pines trailblazers and supporters.
Registration Closed
Pride Month Opening Celebration: Frans Bloem Cabaret
Friday, June 5 | 7 to 8 pm ET
International, award winning Kabarett performer Frans Bloem returns for a heartwarming evening of songs, laughter and charm. Frans has performed all over the world and will entertain us with songs from Charles Aznavour, Edith Piaf, and Marlene Dietrich. Come celebrate the beginning of Pride month with a very gay cabaret!
Registration Closed
Pride for All
June 4 – 7
PinkNews' digital Pride extravaganza! Tune in for four days of content featuring your favorite celebrities, influencers, and politicians.
View Programming
Join the march