Making your State Plan on Aging LGBTQ+ and HIV+ Inclusive: New Older Americans Act Requirements & ACL Guidelines for SUAs
Publish date:
April 2022
Source:
SAGE
Topics:
Cultural Competency
,
HIV/AIDS
,
Legal & Financial
,
LGBTQ+ Aging
,
Social Isolation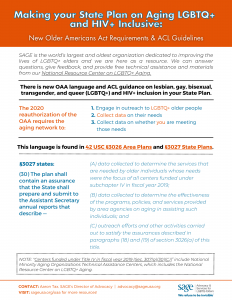 SAGE stands ready to serve as a resource for you to ensure that your State Plan complies with these federal requirements and is inclusive of LGBTQ+ and HIV+ older adults. We can redline a draft plan, provide sample language, and/or set up a call to talk through your options.  
Download the PDF for more information.
Additional Resources:
Contact: Aaron Tax, SAGE Director of Advocacy at advocacy@sageusa.org