LGBTQ+ and HIV Aging Policy Recomendations for a New Administration
Publish date:
November 2020
Source:
SAGE
Topics:
LGBTQ+ Aging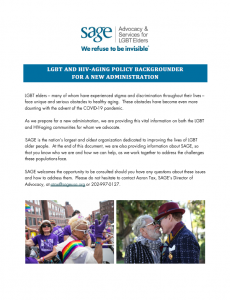 LGBTQ+ elders – many of whom have experienced stigma and discrimination throughout their lives – face unique and serious obstacles to healthy aging. These obstacles have become even more daunting with the advent of the COVID-19 pandemic. As we prepare for a new administration, we are providing this vital information on both the LGBTQ+ and HIV-aging communities for whom we advocate.
Download the PDF for more information.