Health Needs Assessment of the LGBTQ++ Community, Aged 50+, Living with HIV in Puerto Rico Introductory Findings
Publish date:
September 2021
Source:
Waves Ahead Corp. & SAGE Puerto Rico, SAGE, HAPAC, JSI Research & Training Institute
Topics:
HIV/AIDS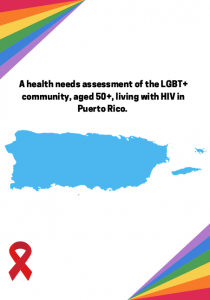 This Community Needs Assessment was implemented as an initial step to remedy the lack of information on the health needs of this population in Puerto Rico. It represents the views of 264 survey respondents and 13 interview participants aged 50 or more, living with HIV, and proud members of the LGBTQ+ community.
Download the PDF for more information.