Disrupting Disparities: Solutions for LGBTQ+ New Yorkers 50+ One Page Overview
Publish date:
January 2021
Source:
SAGE, AARP New York & AARP Foundation
Topics:
Caregiving
,
Cultural Competency
,
Discrimination
,
Health Care
,
LGBTQ+ Aging
,
Social Isolation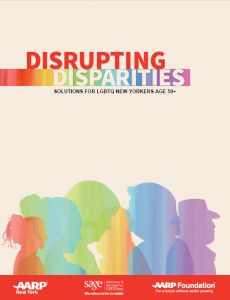 As of 2021, New York State ranks among the top 10 states in terms of the percentage of its population that is lesbian, gay, bisexual, and/or transgender (LGBTQ+). Of the estimated 800,000 LGBTQ+ adults in New York State, nearly one-third (28%) are over the age of 50. Although a key part of New York State's rapidly growing elder population, LGBTQ+ older people remain largely invisible and face unique challenges in aging.
This report seeks to:
1) identify the disparities faced by New York State's 50-plus LGBTQ+ population; and
2) develop concrete policy solutions to address these disparities.
Download the One Page Overview or click HERE to access the full report.