Kim Watson: A Fearless Advocate for the Trans Community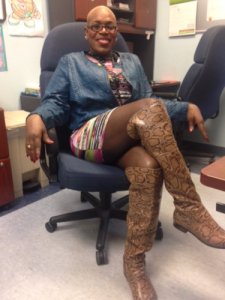 By Vera Lukacs
Award-winning trans advocate Kim Watson's inspirational work paves way for the LGBTQ+ community.
In celebration of Women's History Month, SAGE would like to bring attention to a particularly inspiring woman. Kim Watson is the co-founder of Community Kinship Life (CKLife), an organization that provides services, resources and support to transgender people. Kim is a mentor and mother figure to young trans people, bringing  them together to live and learn in a safe and stimulating space. Kim also works with Black Transmen Inc., and is currently writing Healing Our Women for POC Trans Women.
Kim, herself a woman of transgender experience, advocates for many other transgender people. When asked about the importance of allies in the transgender community, she says, "Allies are folks who are committed to support their SOFFA (significant other family friends and allies) without any deception. The LGBTQ+ community still has hiccups while trying to support the trans* community, but with dedication they will get better, I believe, in time."
In a recent GLAAD blog post for #LGBTQ+Families Day, Kim Watson shares on being a mother, wife and mentor of trans experience: "I am also the mother figure/mentor of chosen kids. I have nine boys and one girl who are my chosen children. Now, being a mother figure to these kids has stabilized my patience, my commitment, my passion and energy to keep loving all of them unconditionally. I cannot always see them, but every day I speak to most of them, or they text me."
Kim is the recipient of many awards, including the Christine Jorgenson Award, the Black Trans Ally Award, and the Certificate of Merit from Senator Jose Serrano (NY).
Kim says, as an aging advocate, it's important to "stay stress free and practice self care". Kim, we thank you for your hard work and advocacy for the trans community!