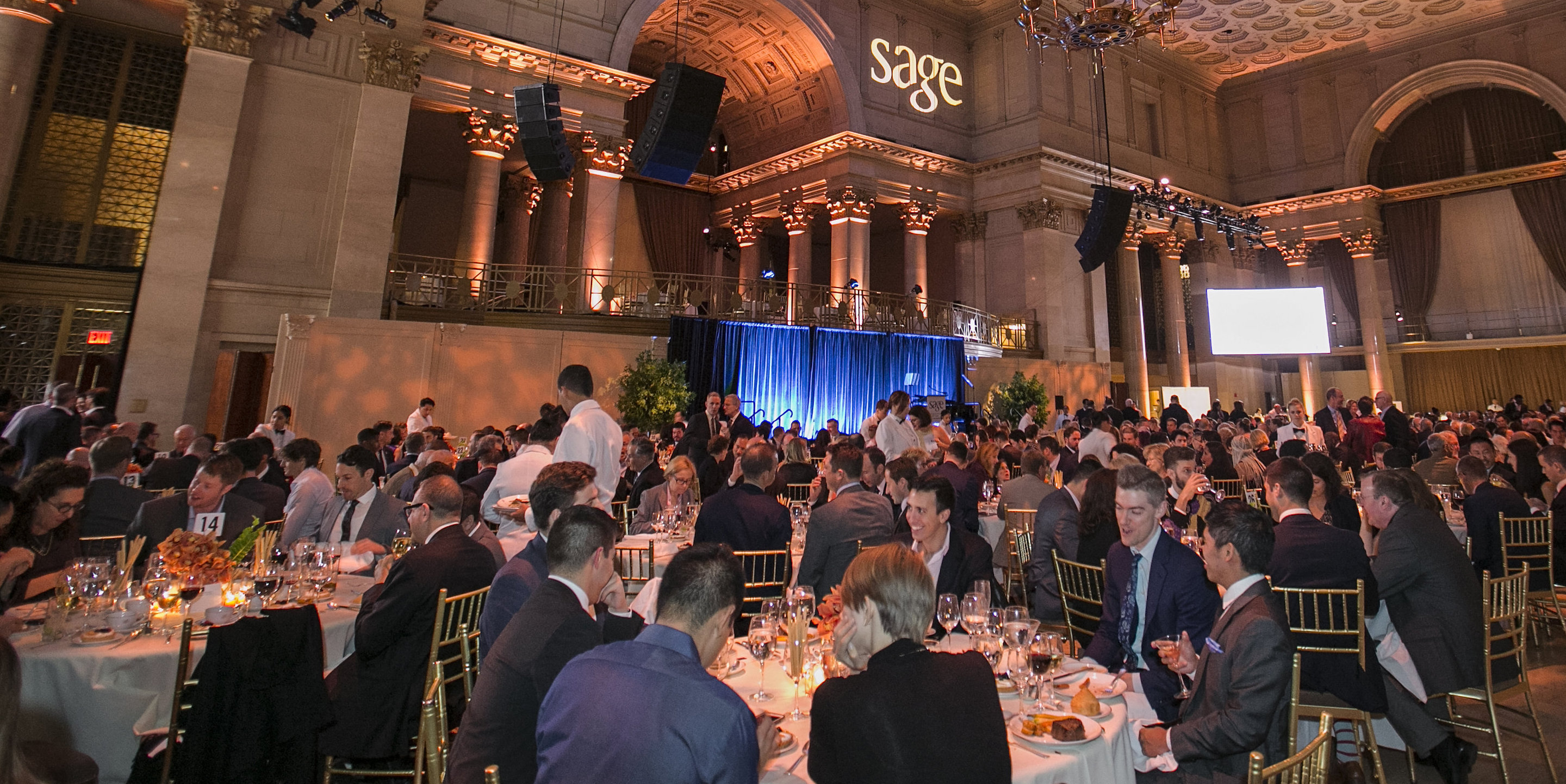 Glitz and glamour in support of LGBTQ+ elders
EVENT DETAILS
Join SAGE this fall at the 23rd SAGE Awards and Gala as we honor actor and activist George Takei; the Honorable Corey Johnson, Speaker of the New York City Council; Kate Kendell of the National Center for Lesbian Rights; and Wells Fargo's John Lake. We will celebrate the progress we've made since our 1978 beginning and look to the organization's future as a national advocacy and services leader with and on behalf of LGBTQ+ elders.
SPONSORSHIP OPPORTUNITY
Leaders in the LGBTQ+ community gather at this annual event to celebrate SAGE and its mission of advocacy and services for LGBTQ+ elders.
For more information about tickets or sponsorships, email Kevin Stec or call him at 212-741-2247.
PRESENTING SPONSOR
Gilead HIV Age Positively™
RUBY SPONSORS
Anonymous
Joy Tomchin
Wells Fargo
DIAMOND SPONSORS
Citi
JPMorgan Chase
Pfizer, Inc.
Walmart
PLATINUM SPONSOR
Macquarie Group
Kevin W. Williams
GOLD SPONSORS
AARP
Cahill Gordon & Reindel LLP
Phil Lumpkin
Elliott Sernel & Larry Falconio
SILVER SPONSORS
Akin Gump
Allen & Overy
BFC Partners
David & Hakim Canter-McMillan
Larry Chanen & Jack Burkhalter
Clayman & Rosenberg
Clifford Chance
Fried Frank
Doug Harris & Bill Van Parys
Mercer
Dr. Charles Middleton & Dr. John S. Geary
Morgan Lewis & Bockius LLP
New York Life Insurance
Laurie Peter & Betsy Bernard
Promontory
Quest Diagnostics
Cindy T. Rizzo & Jenny Smith
Mickey Rolfe & Bruce Tracy
Frank Stark
Sullivan & Cromwell
Wachtell Lipton Rosen & Katz
BRONZE SPONSORS
Robby Browne
Gary Carnow & Barry Soroka
Carol L. Buell Law & Mediation PLLC
Christopher Street Financial
Cigna
Cooley LLP
Dechert LLP
The Dinner Guys
Empire BlueCross BlueShield HealthPlus
First Data
HBO
Carlene Jadusingh (CJ) & Michelle Hyde
Bruce J. Lederman
McDermott Will & Emery LLP
Merrill Lynch & Co., Inc.
MJHS
Morrison & Foerster LLP
New Jewish Home
Barbara Peda & Sandy Anton
Prudential
Renewal Care Partners
Richards Kibbe & Orbe LLP
Linda Scott
Ted Snowdon & Duffy Violante
Gregory Socha & Thomas Eslinger
Sumitomo Mitsui Banking Corporation
Andrew Werner & Shai Tertner
Roy K. Wesley, Ph.D. & Mark Weber, Ph.D.
WilmerHale
Jason Young & Dimitri Papanagnou
BENEFACTOR SPONSORS
Ward Auerbach & Andy Baker
Scott L. Bennett Fund at Our Fund Foundation
Mark Black & Glen Leiner
Jennifer M. Corcoran & Robin L. Grunder
Lisa Davis & Debbie Brennan
Caroline Garcia & Victoria Watkins
Henrietta Hudson
Karpoff Affiliates, Inc.
League @ AT&T
The Ludwig Family Foundation
Elizabeth McCaul
N. Cheng
Northwell Health
Barbara A. Rosen, Psy.D. & Patricia Martone
Squire Patton Boggs
Brian Swallow & Gregory Johnson
Turner Construction
Uhmm Ltd.
Visiting Nurse Service of New York
William Blair & Company
the watsons
John Wright
SUPPORTER SPONSORS
Michael Burke
Jim Obergefell
Savills Studley
Kimberly Turner
Union Community Health Center, Inc.