SAGENet Blossoms in the City of Roses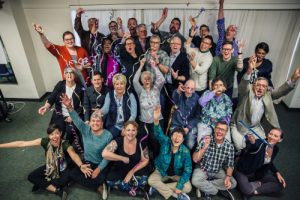 SAGENet affiliates converged on Portland, Oregon, earlier this month for an annual meeting that brings together the largest group of people in the United States who lead programs tailored to the needs of LGBTQ+ older adults.
"Each year, we meet to deepen our skills by sharing what works in our communities," says Serena Worthington, SAGE's Director of National Field Initiatives. "It fuels us to do the work we love with and for LGBTQ+ elders."
Nearly 40 participants learned about promoting effective grassroots advocacy; fostering good mental health in a post-Trump world; implementing SAGE's new branding initiative; and much more.
"I found the Media Activist Training to be the most helpful to me personally, since I sometimes have trouble finding the best way to express my thoughts," says Julie Schmidt of SAGE Alaska about the training offered by Ross Murray, Senior Director of Education and Training at GLAAD. "What jumped out to me was the power of personal stories, a technique that makes a campaign more effective."
Possibly the most important aspect of this year's SAGENet meeting was offering the affiliates an opportunity to exchange ideas. "I love to hear about all the wonderful work the other affiliates are doing around the country to make the lives of our LGBTQ+ pioneers and advocates better and more fulfilling," says Marissa Burns of SAGE Milwaukee. "And I love being able to share my experiences in return."
As with all SAGENet events, there was plenty of time to socialize, this year over ice cream, gourmet doughnuts, and a lavish cocktail party hosted by Glen Ulmer and Marcelo Santibanez in their home, where No Apology from the Portland Gay Men's Chorus gave a surprise performance.