SAGE Story: Diversifying Public Narratives on Aging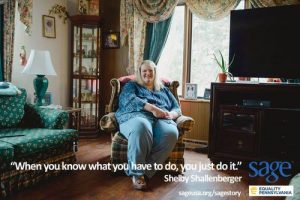 This week, thanks to the generous support of the Evelyn and Walter Haas Jr. Fund, SAGE Story continues to bring storytelling to LGBTQ+ older people around the country to address discrimination and reshape the narrative on aging in America.
Piloted in New York City and expanded to multiple sites in North Carolina, Pennsylvania and other states, SAGE Story draws on the unique life experiences of LGBTQ+ elders to diversify the public narratives on aging and LGBTQ+ rights. Stories this week include Gwendolyn in North Carolina, who discusses faith and how her relationship with God connects to members of the LGBTQ+ community. Meanwhile in Pennsylvania, Shelby shares her struggle with discrimination during her gender transition.
Follow #SAGEStory on social for more stories. To learn more about these and other stories, or to share your story, visit sageusa.org/sagestory.