SAGE: Annual Report 2017
Publish date:
2018
Source:
SAGE
Topics:
SAGE Documents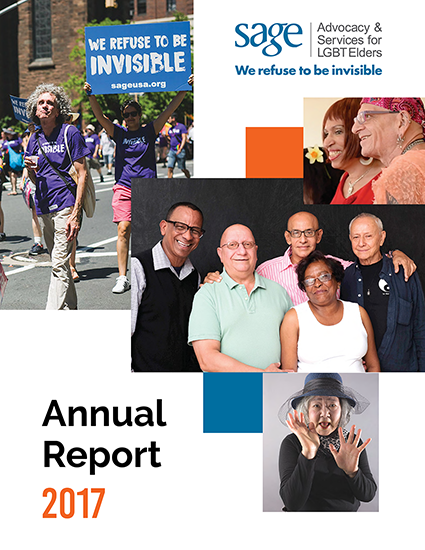 In 2017, we successfully stood up against the Trump administration's attempt to erase LGBTQ+ elders from an aging survey that determines how billions in federal dollars are spent, mobilizing more than 20,000 statements of protest. We progressed on our creation of NYC's first two affordable, LGBTQ+-welcoming senior housing developments, both of which will open their doors in 2019.
SAGE Table convened more than 3,500 LGBTQ+ people of all ages and our allies through 230 events nationwide. Through our SAGECare program, we trained thousands of eldercare providers across the country. SAGE's National Resource Center on LGBTQ+ Aging partnered with the federal Administration on Community Living to issue a smartly crafted toolkit for state aging agencies. We closed out 2017 by celebrating a SAGE icon with the dedication of the Edie Windsor SAGE Center.