Covid-19 & LGBTQ+ Older People
Publish date:
April 2020
Source:
SAGE
Topics:
Cultural Competency
,
Discrimination
,
Health Care
,
Social Isolation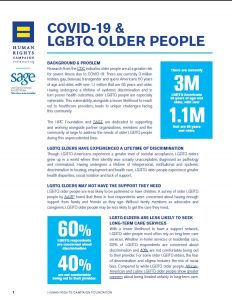 Research from the CDC indicates older people are at a greater risk for severe illness due to COVID-19. Having undergone a lifetime of systemic discrimination and in turn poorer health outcomes, older LGBTQ+ people are especially vulnerable. This brief, co-created by SAGE and HRC, explores these vulnerabilities and the action steps that can be taken to properly support older LGBTQ+ people.
Download the PDF for more information.