10 Tips for Finding LGBTQ+-Affirming Services
Source:
National Resource Center on LGBT Aging
Topics:
Caregiving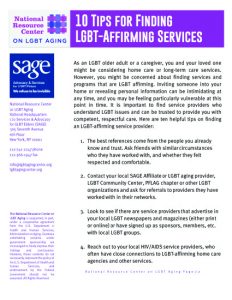 As an LGBTQ+ older adult or a caregiver, you and your loved one might be considering home care or long-term care services. However, you might be concerned about finding services and programs that are LGBTQ+ affirming. Inviting someone into your home or revealing personal information can be intimidating at any time, and you may be feeling particularly vulnerable at this point in time. It is important to find service providers who understand LGBTQ+ issues and can be trusted to provide you with competent, respectful care.