March is Women's History Month
Across our movement, LGBTQ+ women are listening, learning, and bridging gaps between generations of passionate activists and dedicated changemakers. Across the country, LGBTQ+ women are exploring new ideas, innovating on the past, and pushing boundaries. Across the globe, LGBTQ+ women are leading efforts that will improve the lives of people in their communities for decades to come.
SAGE strives 360 days of the year to create content, resources, and programming as diverse and intersectional as the incredible LGBTQ+ women throughout our community's history and those who continue to inspire us today.
Celebrate Women's History Month with us by checking out some of the cool ways SAGE is supporting LGBTQ+ older women, and how these women are supporting SAGE (and the broader community!) in return.
Partnering with Changemakers Across the Globe
Hear from Hannah Yore, SAGE's International Program Officer, about how SAGE is working in solidarity with partners around the world to expand human rights protections and support LGBTQ+ women in Costa Rica, El Salvador, Nepal, and the Philippines. Learn more about SAGE's global initiatives here.
Programs and Services for women, by women
Across our 5 SAGE Centers we are proud to host a diverse selection of activities, support groups, and events curated for older LGBTQ+ women. These programs include:
SAGE's Trans Women's Support Group – connect with other TGNCNB women virtually on Monday evenings under the expert facilitation of Tanya Walker! Please send an email to tgnb@sageusa.org for more info or to register to attend.
SAGE Harlem Women's Support Group – Join us weekly on Thursdays from 1 to 2:30 pm for conversation, luncheons, video presentations, or games. This group is hybrid and open to registered participants of all centers.
The L Group at SAGE Center Bronx – Stop by SAGE Center Bronx at Crotona Pride House between 12 and 1 pm to spend your Thursdays with other lesbian-identified participants!
Find our full calendar of programs and activities here.
Catalyzing change, one woman at a time
SAGE's Action Squad is a group of dedicated activists who are using their actions, voices, and votes to promote equality and justice for LGBTQ+ elders and the community at large. Hear from Tina Jones about her experiences since she's joined the Squad:
Click here to learn more about how you can become a part of the Squad.
LGBTQ+ women wearing their age with pride
Here at SAGE we are committed to combating ageism by elevating elders like Barbara, who show us just how fabulous and empowered aging is when you do so as your authentic self.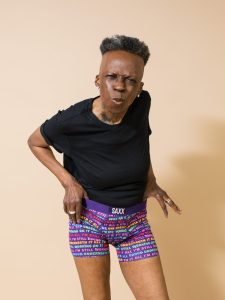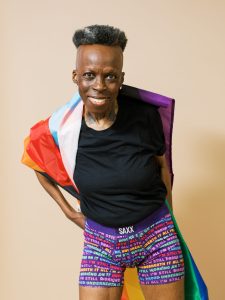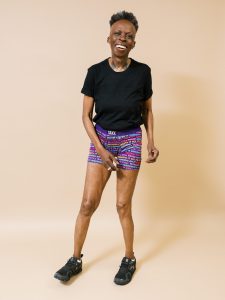 If you're interested in becoming a SAGE spokesperson or sharing your story, reach out!
If you enjoyed this, follow along on our feeds (Facebook | Instagram | Twitter) for more Women's History Month content throughout the month of March.