Celebrating Our Caregivers
February 17th marks National Caregivers Day, a day to uplift the many people in our community who come together to give personal, emotional, and physical care to those in need. For many, we age into stages of needing greater care and support, and friends and family step in to provide this type of care: running errands, picking up prescriptions, paying bills, cooking meals, or accompanying a friend to the doctor. Due to the generations of prejudice and systematic discrimination, LGBTQ+ elders often have fewer financial resources and more isolation than their peers, making access to caregiving or community support more challenging than their peers.
Enter our Care Management team, a wonderful group of people dedicated to serving our elders in the NYC area. To celebrate this national day of awareness, we've asked them to share what drives them to continue to serve our community so passionately and what they love about caregiving.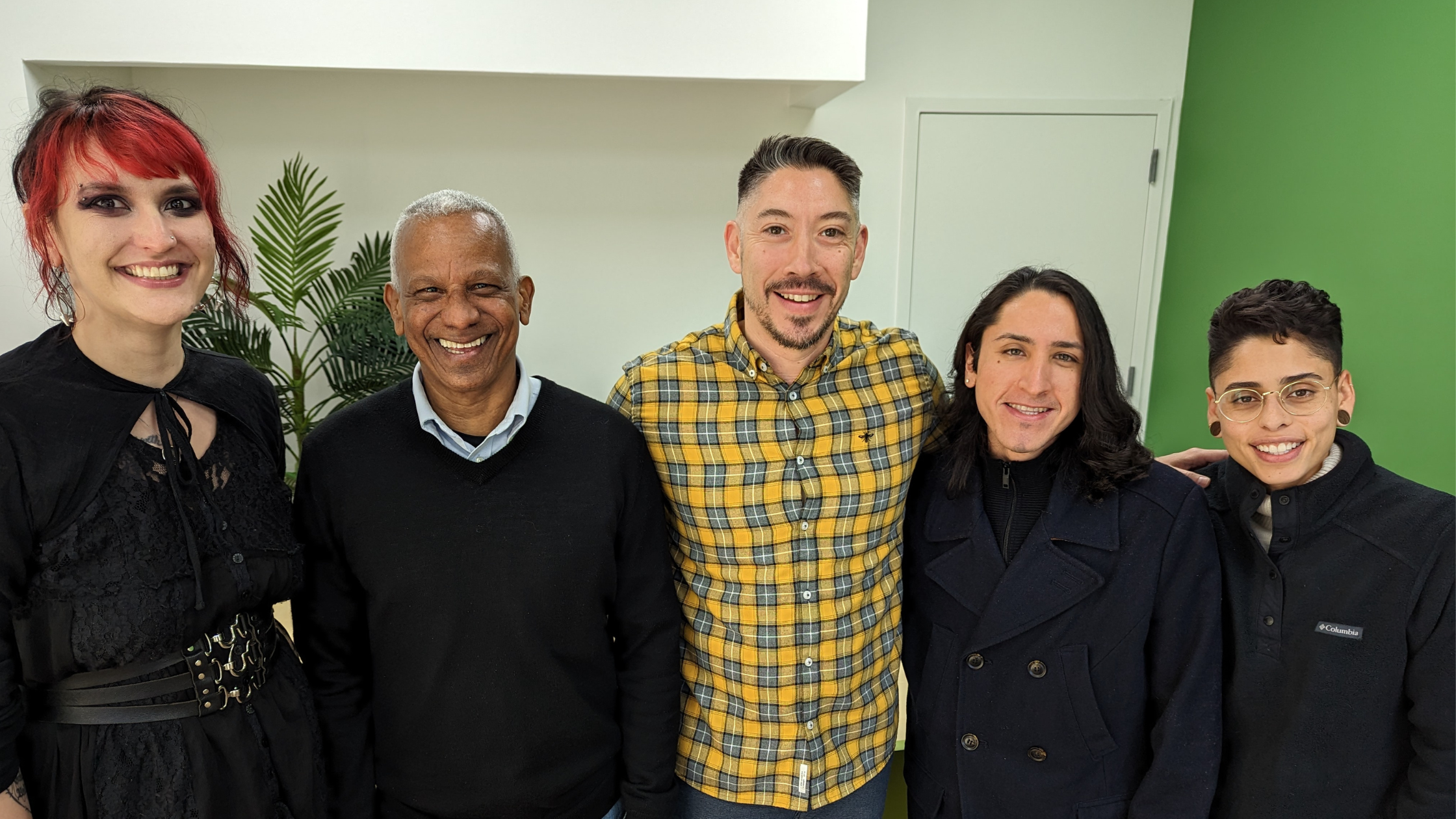 What do you love most about serving the SAGE community?
Helping people combat isolation through therapeutic connection, navigate and access services, benefits, and community resources that help them age in place healthfully without being alone along the way is what I love most about servicing the SAGE community.
– Maddy Alvarez (she/he)
I love serving this community because of the incredible history our participants have been a part of and the historical inequality they have faced accessing services. It is important to me to serve our constituents from a perspective of understanding and valuing the contributions they have made to the community as a whole and supporting them as they provide support to those they love.
– Liz Kinports (she/her), Caregiving Care Manager
I love that the SAGE community has great stories and history attached to them and they're always willing to share.
– Janella Valencia(she/her)
What inspires you about the work that you do?
The older adults who I directly serve and those who walk into our centers inspire me every single day! They have paved the way for my ability to express and be myself today. I am very grateful and honored I get to work with every one of my clients. I learn so much about their contributions to history and now it is my time as a young adult to give back. Some are activists and fierce trailblazers that were a part of LGBTQ+ history such as the Stonewall Riots. The opportunity to be an active listener, acknowledge what they have done, and elevate and affirm who they are is very special.
– Maddy Alvarez (she/he)
I love the SAGE community. They have paved the way for the LGBTQ+ community and it is an honor to serve, advocate, and support them in whatever way we can.
– Joey Costello, Assistant Director of Caregiving
Caring for a love one can be demanding and overwhelming, but it's always rewarding when you can provide some help to ease concerns and provide the caregiver some peace of mind.
– Reyno Francisco (he/him)
It's inspiring working/ meeting participants that continue to be engaged with the center and advocacy behind LGBTQ+ rights. There's so much passion and it's inspiring to see that passion can transcend time.
– Janella Valencia(she/her)
What is the best part of your job as a Care Manager?
Being able to be my most authentic and transparent self while servicing my own community; and of course, making someone smile and seen as "we refuse to be invisible" here at SAGE is one of the best parts of my job as a care manager.
– Maddy Alvarez (she/he)
My favorite part about being a CM is the constant growth needed to assist our clients. Some days it's hands on, other days we're emotionally supporting them and others both!
– Janella Valencia (she/her)
While today celebrates our caregivers, caregiving is year-round and it is a community effort. In addition to case management, our care managers also support elders and their caregivers by connecting them to resources they need in the NYC area. If you or your loved one is an LGBTQ+ elder in the NYC area needing support, you can find out more about our services and how to access them here.
Our elders were there for us, and now it is our honor to be there for them.