LGBTQ+ Elders Now Have a Place to Call Home
SAGE will soon make history when it opens two LGBTQ+-friendly housing developments, one of which will be the largest in the country.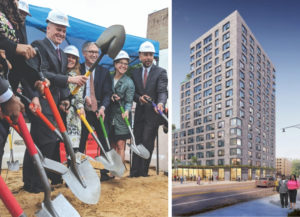 This year, SAGE is celebrating a historic accomplishment—fulfilling a decades-long dream of building LGBTQ+-welcoming housing for our community's elders. Housing has been a focal point of SAGE's vision since the 1980s. Over the years, SAGE has worked to address LGBTQ+ elder housing needs while sparking a national conversation on how to improve policies, create cultural competency practices, and strengthen anti-discrimination protections for older LGBTQ+ people. In the past year, these efforts have been featured in the New York Times, Chicago Tribune, and Washington Post, among many other outlets.
In 2019, the year in which we commemorate the 50th anniversary of the Stonewall uprising, SAGE will open two LGBTQ+-friendly affordable housing developments in New York City—Ingersoll and Crotona Senior Residences. The timing is purposeful and significant, honoring the Stonewall generation by ensuring that they have access to the housing they need and ensuring they have the chance to age with dignity and respect.
The Ingersoll Senior Residences in Fort Greene, Brooklyn, will be the largest LGBTQ+ elder housing development in the country with 145 apartments. The 17-story building will have three outdoor terraces and feature a state-of-the-art SAGE Center on the ground floor, where residents can find community via extensive programs and services. Crotona Senior Residences in the Bronx will offer 83 affordable apartments and a beautiful roof garden and will also feature a SAGE Center on the ground floor.
The need for this kind of housing is vital, especially given the high levels of housing discrimination that LGBTQ+ elders face. In 2014, the Equal Rights Center conducted a national study that found that 48 percent of same-sex couples who apply for senior rental housing are subjected to discrimination. The study's findings are consistent with SAGE's experience on the ground working with tens of thousands of LGBTQ+ elders across the country.
In response, SAGE launched its National LGBTQ+ Elder Housing Initiative (NHI) in 2015. The multipronged initiative includes advocacy and training to open up the larger senior housing sector to LGBTQ+ older people, consumer resources to empower LGBTQ+ elders with the information they need to find the best housing options, and support for building LGBTQ+-friendly elder housing in communities across the country. The NHI was seeded with a visionary $1 million matching grant from the Calamus Foundation, which sparked other investors to support the initiative, including Citi Community Development. The Calamus Foundation, together with Citi Community Development, remain SAGE's lead funders and partners for the NHI.
"Nationwide, there are less than 600 units of affordable housing focused on the needs of the LGBTQ+ elderly," said Bob Annibale, Global Director of Citi Community Development and Inclusive Finance. "As the LGBTQ+ population rapidly grows toward 7 million by 2030, more housing needs to be intentional and inclusive to their needs. By expanding SAGE's efforts to provide technical assistance and training to communities and housing providers, we aim to help ensure that affordable housing is inclusive and welcoming."
Marie Spivey, 64, a participant at the SAGE Center Bronx, spoke at the groundbreaking for Crotona Senior Residences and described why LGBTQ+-friendly housing is critical for elders. As Marie shared: "Everyone deserves to grow old with dignity and respect, and a bit of happiness. This place will hopefully help me, and other older LGBTQ+ people, live their best lives as they get older."