Ingersoll Senior Residences in Fort Greene is Part of NextGeneration NYCHA's 100 Percent Affordable Housing Program and Includes a New SAGE Senior Center
Building Expected to Open in June 2019 – the 50th Anniversary of the Stonewall Uprising and the Birth of the LGBT Rights Movement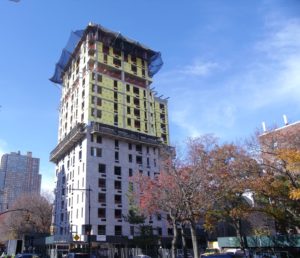 [Fort Greene, Brooklyn] – SAGE, BFC Partners, the New York City Housing Development Corporation (HDC), the New York City Housing Authority (NYCHA), and the Department of Housing Preservation and Development (HPD) today celebrated the topping out of construction of Ingersoll Senior Residences, one of NYCHA's first 100 percent Affordable Housing Program developments. The new building is New York City's first LGBT-friendly affordable senior housing and the largest such development in the nation. As it enters the final phases of construction, officials said the building is expected to open for residents in June 2019 alongside the 50th anniversary of the Stonewall Uprising and celebration of World Pride in New York City.
Ingersoll Senior Residences, developed as part of the NextGen NYCHA initiative, is a 17-story building at 112 St. Edwards Street in Fort Greene, Brooklyn that will provide 145 units of affordable senior housing and a new 7,600-square-foot SAGE Center operated by SAGE – the nation's largest advocacy and service organization dedicated to improving the lives of LGBT elders.
While the new housing and SAGE Center will be open to all qualifying low-income seniors, BFC Partners and SAGE have worked together to ensure the building is uniquely designed to meet the needs of older members of the LGBT community. Older LGBT people across the nation are statistically more likely to face housing discrimination and harassment and are less likely to have children and other family members to help care for their needs.
"Today is an important step forward in delivering the 10,000 new affordable units we have promised," said NYCHA Interim Chair and CEO Stanley Brezenoff. "This building is the City's first LGBTQ-friendly development and demonstrates NYCHA and the City's commitment to ensuring our seniors have access to the safe, affordable homes they deserve."
"We are proud to work with SAGE and the de Blasio administration to help address the urgent need for affordable housing that is truly welcoming and supportive of LGBT seniors," said Don Capoccia, principal and founder of BFC Partners. "It is our hope that this project will continue the conversation about how stakeholders across the nation can further step up to aid elders of the LGBT community – many of whom have played a direct role in the fight for civil rights and equality that began with the Stonewall Uprising and continues today."
"Today we celebrate being one step closer to realizing a decades-long dream to of providing LGBT-welcoming and affordable housing for our LGBT trailblazers," said SAGE CEO Michael Adams. "Thank you to BFC Partners, Mayor Bill de Blasio, NYC Speaker Corey Johnson, and all of our supporters, who are making sure that the LGBT pioneers who fought for recognition and civil rights will soon have a place to thrive and memorialize the 50th anniversary of Stonewall."
"I struggled with housing for many years and found myself homeless at one point. When you are homeless, you can sometimes forget what it's like to feel human and have connections with other people," says SAGE constituent Lujira Cooper. "That is why I appreciate and understand the need for safe and affordable housing for the LGBT community. This residence will provide both a haven and a vibrant community for us LGBT elders, and I cannot wait to apply."
The new building is part of NYCHA's 100 percent Affordable Housing program, helping the Authority meet its goal to provide 10,000 new affordable units over 10 years, in support of Mayor de Blasio's Housing New York 2.0 plan.
Ingersoll Senior Residences received financing from the New York City Department of Housing Preservation and Development and the New York City Housing Development Corporation and is being built under New York City's Extremely Low and Low-Income Affordability (ELLA) Program. All units in the building – including 54 studios and 91 one-bedrooms – will be affordable for older people, age 62 and older, earning up to 60 percent of the area median income (AMI).
The project is also being developed in accordance with the Enterprise Green Communities Criteria (EGCC), which constitutes the only comprehensive green building framework designed for affordable housing. This framework provides proven, cost-effective standards for creating healthy and energy-efficient homes.
"By partnering with non-profits like SAGE, we are providing so much more than affordable housing – we are creating more inclusive opportunities for all New Yorkers, including LGBT seniors, to thrive in a supportive and secure community," said HDC President Eric Enderlin. "Congratulations to all our partners as we celebrate another important milestone in the development of Ingersoll Senior Residences."
"Through Housing New York, we are operating on all cylinders to serve the seniors who helped to build this great city," said HPD Commissioner Maria Torres-Springer. "In partnership with NYCHA, HDC, and our elected officials we are seizing every opportunity to harness public land for affordable housing and put seniors first. I want to thank BFC and Sage for pushing forward on this transformational project at Ingersoll Houses in Fort Greene, Brooklyn to create 145 affordable homes and a welcoming community for LGBT seniors. I look forward to welcoming incoming residents to their new homes in the coming months."
###
SAGE is the country's largest and oldest organization dedicated to improving the lives of lesbian, gay, bisexual, and transgender (LGBT) older people. Founded in 1978 and headquartered in New York City, SAGE is a national organization that offers supportive services and consumer resources to LGBT older people and their caregivers. SAGE also advocates for public policy changes that address the needs of LGBT elders, provides education and technical assistance for aging providers and LGBT community organizations through its National Resource Center on LGBT Aging, and cultural competency training through SAGECare. With staff located across the country, SAGE also coordinates SAGENet, a growing network of affiliates in the United States.
NYCHA's mission is to increase opportunities for low- and moderate-income New Yorkers by providing safe, affordable housing and facilitating access to social and community services. Almost 400,000 New Yorkers reside in NYCHA's 325 public housing developments around the five boroughs, and another 235,000 receive subsidized rental assistance in private homes through the NYCHA-administered Section 8 Leased Housing Program. For more information, visit http://www.nyc.gov/nycha and for regular updates on NYCHA news and services, connect with us via http://www.facebook.com/NYCHA and www.twitter.com/NYCHA.
BFC has been a developer of affordable and market-rate housing and mixed-use projects in New York City for more than 30 years. Since the firm's inception in the 1985, BFC and its principals have completed over $5 billion in development projects, encompassing the construction of more than 8,000 residential units and millions of square feet of mixed-use development. For more information about BFC Partners visit www.bfcnyc.com.