Let's Talk: Jerre Kalbas and Teresa Theophano
In honor of SAGE's 40th anniversary, we paired LGBTQ+ trailblazers and influencers of varied generations to reflect on our collective past and discuss our future. These interviews reflect life experiences that span several decades and geographical divides. All illustrate burning passions for a better tomorrow. 
JERRE KALBAS is a long-time supporter of SAGE and is currently a recipient of SAGE services. Jerre just turned 100.
TERESA THEOPHANO is Assistant Director of Care Management Services at SAGE and is Jerre's Care Manager.
Who inspired you?
Teresa: This might sound cheesy, but it was about 20 years ago when I first learned about SAGE. I didn't know I would end up working for SAGE, but how exciting it was to see the SAGE bus at the first Pride March I ever attended in NYC. It was such a huge deal for me. I'm inspired by a lot of the LGBTQ+ grassroots organizations of the past, and to be part of one now is incredibly exciting.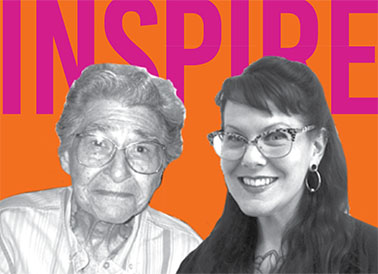 Jerre: There were a lot of people I looked up to because I was a very shy and scared person. I looked up to people and copied their behavior and I moved forward that way. Chris Almvig asked me to come to her house so that I could be part of SAGE. I was about 60 at the time. I put up fliers on telephone poles to try to recruit people—which we did.
What are the challenges the LGBTQ+ community faces as we age?
Jerre: There are still people who will deny the LGBTQ+ community. And so we still have to fight back. I think we're doing very well though. I have outlived all of my friends and, of course, that is hard for me. I have younger friends but they have their own life. I don't push. When I see them, I see them. I had my 100th birthday party a few weeks ago. Many people came. Stacy, who was my first Friendly Visitor, came in from England. So it was really a great party. Nobody thinks I'm 100!
Teresa: I work a lot with caregivers, and their concerns are 'who's going to care for me when I age?' People have concerns around how they are going to avoid isolation and where they can have safe, affordable housing.