Let's Talk: Vega Subramaniam and Pat Lin
In honor of SAGE's 40th anniversary, we paired LGBTQ+ trailblazers and influencers of varied generations to reflect on our collective past and discuss our future. These interviews reflect life experiences that span several decades and geographical divides. All illustrate burning passions for a better tomorrow. 
VEGA SUBRAMANIAM has been involved in LGBTQ+ organizing since 1983 and is a SAGECare certified trainer.
PAT LIN is a recent graduate of NYU and was instrumental in organizing last year's SAGE Table event.
Who inspired you?
Vega: I was thinking about when I was first coming out in college in 1983. At the time there was some really rich creative work being done by black and brown women of color—lesbians and bi women— partly through a publisher called Kitchen Table Press. Some who come to mind are Barbara Smith, Audre Lorde, Cherrie Moraga. Books like This Bridge Called My Back, All the Women are White, All the Blacks are Men, But Some of Us are Brave, Homegirls, and many anthologies. These writers and artists, along with a very vibrant music scene—Holly Near, Chris Williamson, Ferron—were inspirational. I got really immersed in creative expression. So folks doing creative expression spoke to me as a lesbian woman of color, in the mid 80's—I was enveloped by that world.
Pat: So much of what is LGBTQ+ in America is white and black, so it's interesting to hear my experiences mirrored, even back to the 80's. As a young Asian- American I am really inspired and indebted to the work done by black and brown people to pave the way for other people of color, especially as I continue to confront anti-blackness in my own community.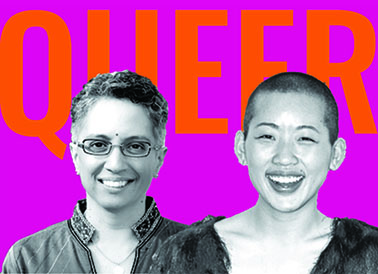 There's still a lack of nuanced representation of people of color, and for me a lot of work to be done educating and uplifting my own people and building together across cultures.
Vega: Mala and I founded an organization in Seattle called Trikone Northwest for the queer South Asian community. We had a 20th anniversary celebration and the room was full of people—some as young as 16 who were saying, "oh wow, I didn't know you were here. I'm not out to my parents yet. I'm afraid to lose my family's support." And this is 2018! So there's still so much more work we need to do.
Pat: Definitely agree. I don't see much that is queer, Asian and intergenerational, so that's fascinating and I'd love to know more! That's why we need more conversations across queer generations. What is queer today is influenced hugely by the trans tipping point and trans voices. A lot more young people are identifying gender non-conforming than necessarily lesbian, gay or even bisexual. I wouldn't identify with any of those identities. I just use queer—for the ambiguity and fluidity. And knowing queer elders is crucial to this understanding as well. The elders I met at SAGE really influenced me for the work I'd like to do.