"Black history is made every day and everywhere."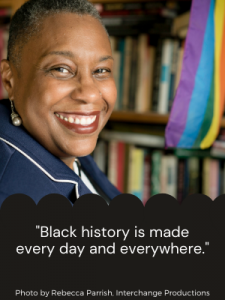 As we continue to celebrate Black History Month, SAGE is asking members of the community to share about their passions and who inspires them to continue being advocates for the LGBTQ+ community. We recently spoke to Kim L. Hunt, 58, executive director of the Pride Action Tank (PAT), a project of AIDS Foundation Chicago. Kim lends her leadership to SAGE's state-based advocacy work in Illinois and was also a panelist on our Pride in Place event with the director and cast of Netflix's A Secret Love.
What is a project you're working on right now that you're passionate about?
Hmmm, it's never just one project with me. Through my work at Pride Action Tank (PAT), I have the opportunity to work on multiple projects that have been co-created by community. One is OUTReach: Advocating for Safe & Inclusive Spaces for LGBTQ+ Older Adults, which has trained cohorts of LGBTQ+ older adults in storytelling and advocacy to push for policy changes that improve experiences and outcomes for all older adults. The other is One Roof Chicago, a project that had some incubation time at PAT and is devoted to building an LGBTQ+-centered intergenerational community for older adults and young people most in need of affirming housing, meaningful connection, and career development.
Who is your LGBTQ+ role model and why?
I have many LGBTQ+ role models. One who comes to mind is Miss Major, who has been an activist for the rights of trans women for decades, especially those who are currently and formerly incarcerated. She's created so many pathways to liberation and her sense of urgency and vision are infectious. I'm honored and humbled to be on the list of many who get a check in call from her a few times a year.
History was made with this election with our first Black VP. When people are looking back on 2021 and the current administration, what's something else you hope to see become part of Black history?
In late January I heard someone say, "What a long year this month has been so far." I couldn't agree more. My emotions are raw from living in a global pandemic, a racial reckoning movement like we've never seen, and an insurgence on the Capitol. And, I'm hopeful. I cried when Kamala Harris was sworn in as VP. At the same time I know that while representation is important, it's not enough. Black history is made every day and everywhere. Something else that I hope to see become part of Black history is an end to the prevailing casual acceptance of the murders of Black transgender women in particular and to see them thrive. Because when Black trans women thrive, we all thrive.
Lastly, when it comes to being an advocate for LGBTQ+-inclusive aging legislation, what sort of policies are you most passionate about moving forward?
This is an area that I have conversations about several times a week. LGBTQ+ cultural competency and empathy training are absolutely needed in health care, housing, and other services provided to LGBTQ+ older adults. But, truth be told, these are systems that don't serve most people well. In addition to the training, we must have policies in place that pay front-line workers in these systems a living wage and we must shift our thinking in this country from one where high quality, accessible health care, and housing are treated as rights, not privileges.
Keep an eye out for more interviews with members of the SAGE community during Black History Month!
Looking for ways to get involved? Share your story by becoming a SAGE Spokesperson today.