Yet We Rise: Remembering to Fight on Transgender Day of Remembrance—and Every Day
By Pat Lin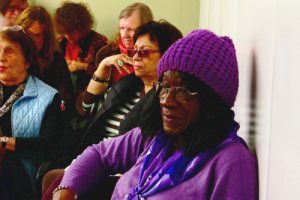 Renée Imperato, lifelong transgender activist and SAGE participant, began the closing of SAGE's Transgender Day of Remembrance ceremony with a wry yet passionate call to action. "Greetings to my collaborators in the enlightenment of the human condition," Imperato said. "That should cover it. At least 5 genders of the Native People." Sniffles and solemn faces filled the room, but the transgender elders present insisted on fighting as well as mourning, moving forward as well as remembering.
The Transgender Day of Remembrance was started by trans advocate Gwendolyn Ann Smith as a vigil to honor the memory of Rita Hester, a transgender woman who was killed in 1998. The vigil commemorated all the trans people lost to violence that year — an important memorial that later became the annual Transgender Day of Remembrance.
Facilitated by Applied Theatre coordinators Christian Appel and Shanti Rose, the SAGE community used practices of ritual, performance and community organizing to plan this year's ceremony. "All the ideas we had coming this year came directly from trans women," said Appel. "We tried to make as many decisions be up to them. That is critical."
The ceremony began with readings of the biographies of those lost to violence. Participants discussed at length the themes they wanted to explore. Topics ranged from heavy to hopeful, from suicide as another prominent form of violence within the transgender community, to a reading of trans milestones in 2016.
As participants rose to give thanks, prayers, dedications and affirmations, mentions of the recent election permeated the room. Though worried, participants remained upbeat. "We have the 2nd man in charge who believes in conversion therapy. Well, I've converted," participant Victoria Rose proclaimed to uproarious laughter. "And then we also have transitional therapy. Well I've transitioned, honey. I want you to humor me. We're celebrating these people's lives. Let's not cry because I see myself in each and everybody here."
The ceremony ended on a striking note with a fiery call to action. Imperato invoked the names of pioneering trans activists, such as Marsha P. Johnson, Sylvia Rivera, Leslie Feinberg and more. She emphasized the intersectional component that's so important to genuine progress, and mentioned the growing number of trans women of color in leadership positions. "If we don't have that, we'll never be free. You'll never be free until you shed free the chains of oppression that chain us all but they just chain people of color even more. Justice is coming. Oh, it's coming. And when she gets here she's going to be pissed off. So don't mourn! Don't cry! Fight back!"