Where Bigotry is Denied Entrance—Fighting HIV/AIDS Stigma in Housing
By Pat Lin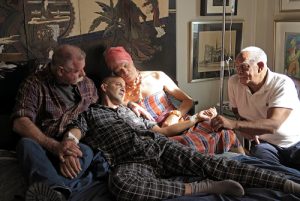 On this World AIDS Day, it's important to commemorate how far we've come since the HIV/AIDS pandemic started. HIV isn't the death sentence it used to be, but many long-term survivors of HIV continue to pay an emotional, physical and financial toll. In addition to managing the disease, HIV survivors still face stigma. As they get older and the effects of the disease compound the challenges of aging, they become more vulnerable. As the nation's largest and oldest organization serving LGBTQ+ older adults, SAGE seeks to eradicate the stigma around HIV and to create welcoming spaces for long-term HIV survivors.
When seeking specialized housing in a supportive and nonjudgmental environment, long-term HIV survivors, LGBTQ+ or not, face a huge hurdle. According to a 2014 poll conducted by SAGE, 1 in 8 LGBTQ+ adults and 1 in 4 transgender adults report experiencing discrimination in housing and long-term care environments. In an article addressing HIV stigma in housing options, Hilary Meyer, SAGE's Director of Social Enterprise and Special Projects, said, "We certainly have experiences with hearing stories about caregivers not understanding how to work with HIV, appalling things such as concerns with contact. There's still very much a stigma and misinformation."
SAGE is working to create comfortable and inclusive environments for long-term HIV survivors. Last summer SAGE announced that two new LGBTQ+ age-friendly senior housing developments would be built in New York City. Along with these two developments in Brooklyn and the Bronx, SAGE is spearheading nationwide advocacy efforts against discrimination in housing. "The number one issue for our constituency is affordable housing," said Meyer. "Having a long-term disability just compounds the issue. It limits where they can live." Yet housing construction alone is not enough to solve the problem. As SAGE's Director of Federal Government Relations Aaron Tax said, "We can't build our way out of this. The wider housing stock has to be either affordable and/or targeted low-income, and be welcoming…If you're in New York City, perhaps you can get into an LGBTQ+-targeted building, but there are plenty of people who won't be able to get into a building like that."
Who one lives with is just as important as where. Open, compassionate and culturally competent providers and staff who understand the specific needs of LGBTQ+ older adults and long-term HIV survivors are crucial to creating supportive environments. This is why SAGE started SAGECare, a training and consulting program on LGBTQ+ aging for service providers. SAGECare offers cultural competency training for all levels of employees, personalized consulting on LGBTQ+ aging issues, and full audits on LGBTQ+-inclusive policies, procedures and best practices. Providers can earn Bronze, Silver, Gold and Platinum SAGECare credentials to signal their commitment to the best person-directed care for LGBTQ+ older adults.
Said one SAGE constituent, "I want to feel safe, housed in a place where bigotry is denied entrance." Long-term HIV survivors and LGBTQ+ elders deserve that safe space, and it's up to people and organizations like SAGE to make sure that it happens.