We Are the Voices of Change: Fighting Back North Carolina's HB2
This post originally appeared on HuffPost Queer Voices on April 6th, 2016. Read the original post here.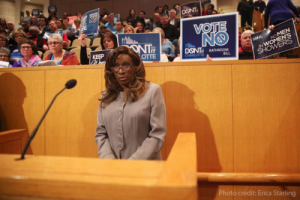 In a 12 hour special session on March 23rd, the North Carolina General Assembly passed House Bill 2 (HB2). Designed to overturn a Charlotte City Council ordinance which protects lesbian, gay, bisexual and transgender (LGBTQ+) people in public accommodation, commercial contracting and taxis, HB2 is the most sweeping anti-LGBTQ+ legislation in the nation, according to Equality North Carolina(NC). It overturns existing ordinances protecting LGBTQ+ people across the state and bans transgender people from using restrooms that correspond with their gender.
SAGE (Services and Advocacy for Gay, Lesbian, Bisexual and Transgender Elders) is the country's largest and oldest organization dedicated to improving the lives of LGBTQ+ older adults. In support of achieving equal treatment for LGBTQ+ people across the country, SAGE has worked with our partners in NC over the last four years to train LGBTQ+ older adults to tell their stories of discrimination in housing, health care, public accommodation and employment. Through SAGE Story, our NC affiliates, SAGE Wilmington and SAGE Raleigh, and our partners, the Freedom Center for Social Justice and Equality North Carolina bring the voices of LGBTQ+ older adults to the fight.
Serena Worthington, SAGE's Director of National Field Initiatives, sat down with SAGE Story alum Reverend Debra J. Hopkins, an out and proud transgender woman and a minister at Sacred Souls Community Church in Charlotte, to talk about the importance of anti-discrimination protections for LGBTQ+ people, how HB2 harms LGBTQ+ North Carolinians and how she uses her story to advocate for equality for all.
Serena Worthington: I first met you at SAGE's Storytelling Summit where I had a chance to interview you one-on-one. I was impressed by your style and how you foreground your personal biography as a transgender woman and a person of faith. Why is this important?
Debra J. Hopkins: Whether I'm behind the pulpit, out in the community or speaking to state representatives or community members, I try to tell my story in a relatable way. I do this because the best story that I can share with anybody is mine own, my story and my journey.
SW: I watched a clip of you testifying at the hearing for the Charlotte non-discrimination ordinance. I was especially impressed by the fact that you spoke so powerfully, even though the room was filled with people opposing the bill and you had just a very brief amount of time. What was that moment like for you?
DH: We only had one minute to speak because there were 140 people there. In the moment, I cut my remarks down from three minutes. If you watch that clip, you see that I step away from what I had at the podium. The quickest way for me to get my story or my point across is to first give a quick bio of who I am, the work that I'm doing and the point that I need to drive home to my audience. Most of my speaking comes from inspiration— it's an ability, a gift of mine to be able to, at a moment's notice, be direct and candid about the issues and concerns that many of us have. You are not going to understand me if I'm rushing and I've learned the art of condensing so that I can brief but still be passionate and get my point across. You have to be able to work with the time afforded you.
SW: I often hear the phrase storytelling is a Southern tradition. How does that tradition play out for you?
DH: I come out of corporate America—my original home was New York City where I was a broker and a schoolteacher—and what's fascinating about it is that I have translated that experience down here to the South. Over the 30+ plus years that I've been down here, I've had a combination of both a Northern flavor and a Southern flavor. Combined with the passion that I have for real change—equality for all—I draw on all of those energies to fit the pieces together when I tell my story.
SW: In person and on video, you have a fantastic delivery style. You take your time, you smile a lot, and you make lots of eye contact which really conveys a strong sense of you as a person. What training have you found to be the most useful to you as you continue to improve your storytelling and speaking skills?
DH: I had a mentor out of Dallas, TX who helped me develop my skills as a young pastor, Dr. Tony Evans. Dr. Evans is the pastor of Oak Cliff Bible Fellowship and he is also the President of the Urban Alternative Christian Broadcast Ministry. He was very influential to me. I became a pastor a year-and-a-half into my ministry and I didn't get the tutelage and training that a lot of seasoned pastors would have had early in their careers. I had to learn as I go. My mentor talked about the importance of taking my time, making strong eye contact, and conveying my message as articulately as possible.
SW: Whose story inspires you?
DH: There are three people that move on the altar of my heart. The first one is a transgender woman named Christine Jorgensen, who was an author and entertainer. When I was going through my struggle, the internet was not available and the transgender community was not being spoken of, or fought for, as the gay and lesbian community went battle for their rights. I met Christine Jorgensen about a year-and-a-half before she passed away. She helped me understand what I was going through which sent me on the path to continue to do research.
Also, strange as it may sound, my Dad—who never knew that I was in the midst of my transition because he passed away early. He instilled some very important things in me. One of things he told me that I will always remember is that no matter what I do or wherever I go, be the best that I can be. He told me, if you want to be a bum on the street, be the best bum on the street. If you are going to do anything, do it with dignity and do it with respect.
My current pastor, Bishop Tonyia Rawls, has been quite an influence on me. She is helping me shape my elder years so that I am a more complete vessel in this journey of activism and ministry. She is one uniquely gifted individual and she has such a passion for, not just the LGBTQ+ community, but specifically the transgender community—whether it's youth who are struggling with their sexuality or being thrown out into the streets or those of us who are older. She has been such a moving force, I can't help but be proud of her. She really moves on the altar of my heart. I love that lady like none other.
These people played such a pioneering role in how I move and how I operate today.
SW: You anticipated the swift state government response to the passage of the Charlotte ordinance and said that the government of NC would work hard to rescind it, which it did by passing HB2. How did the passage of the ordinance change things for you and why do you think state-wide LGBTQ+ anti-discrimination protections are important.
DH: As a Black trans woman, the Charlotte ordinance gave me protection and the freedom of knowing that I have the right to enter the same spaces and go to the same things as every law abiding citizen in the state of North Carolina. Many of us are very law abiding citizens. We pay our taxes, we try and get an education, some of us are making major contributions in our communities, some of us are teachers, lawyers, doctors, etc. Protections like the Charlotte ordinance give us a sense of peace. We want to be able to travel, to be able to go somewhere and relax without the fear of looking over our shoulder or experiencing harassment. We want the peace of mind and the security necessary to be full citizens of the state of North Carolina.
SW: What advice do you have for your fellow activists?
DH: The advice that I would give anyone pressing for positive change is to be persistent, whether they journey that road alone or are working collectively with other people. The problem is that many of us become defeated or discouraged because we don't see immediate change and movement. We have to be persistent, be consistent and we must be extremely patient—we must press forward no matter how long it takes to achieve our goals.
For the activists who are fighting, continue to press forward, tap into people like myself and others. We'll come along side you and make the trip to Greensboro or Raleigh or wherever the state of North Carolina calls. We can do it together.
In closing, I'll say this.
Nobody can tell your story like you can. Nobody can walk in your shoes like you can. So tell your story, let no one else write it for you. You are the only one who can tell it and you are the only one who can tell it right.
We are the voices of change and we want to make our voices heard.
Reverend Debra J. Hopkins is a native of New York currently living in Charlotte, NC where she serves with Time Out Youth, Equality NC, the Freedom Center for Social Justice, and the Transgender Alliance Group. She is a licensed and ordained Minister of 28 years.
Serena Worthington is SAGE's Director of National Field Initiatives. Follow Serena on Twitter: www.twitter.com/serenaworthy