The Untold Experiences of LGBT Elders Around the World
LGBT elders and their advocates, led by SAGE, had a major presence at this summer's International Federation on Ageing (IFA) Global Conference in Toronto
Sassa Almendro Zeballos knew from an early age she was different.
"When I was a kid, I felt like I was a girl. I was always aware of that since I was a child."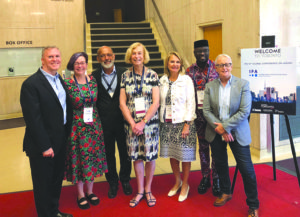 Zeballos, 68, who lives in Bolivia, knew that at that time that coming out was simply not an option. Still, Zeballos persevered and now finally feels comfortable in her own skin. "I am convinced that we cannot be invisible, discriminated against, or excluded."
Zeballos attended this year's 14th International Federation on Ageing Global Conference (IFA), which included an entire track of programs on LGBT aging. The seed for this idea was first planted when SAGE CEO Michael Adams traveled to Australia to present a workshop on LGBT aging at the 2016 IFA conference. When Adams discovered there was a desire to learn and do more for LGBT elders across the globe, he helped make the 2018 conference have a robust LGBT aging track. The conference illuminated the often-untold experiences of LGBT elders from around the world—people like Zeballos, who now advocates on behalf of LGBT elders in her native Bolivia.
SAGE proudly sponsored Zeballos' attendance at the conference, which drew advocates from Australia, Bolivia, Costa Rica, Panama, Puerto Rico, Kenya, and more. The LGBT track at the conference included three special "town hall" sessions, numerous workshops, and the first-ever LGBT-inclusive Addressing Inequalities Summit.
"We live in an increasingly interconnected world," says Adams, "and SAGE is the world's largest organization focused exclusively on LGBT older people. So it's no surprise that in recent years people and organizations from across the globe have been reaching out to SAGE for help with their efforts to address the needs of LGBT elders in their countries. While SAGE continues to focus most of our efforts on the U.S., we're excited that there are opportunities like the IFA conference to join forces with LGBT aging advocates globally to make a difference for our community's elders."
Global LGBT aging research is sparse. To fill that gap, SAGE released a first-of-its-kind report at the conference that featured data drawn from the International Lesbian Gay Bisexual Trans and Intersex Association (ILGA)-RIWI Global Attitudes Survey on Sexual, Gender and Sex Minorities. The report revealed groundbreaking data from a global survey of 75 countries on social attitudes about LGBT elders.
"Invisibility and isolation among older sexual orientation and gender identity minorities across the globe leads to neglect and abuse," says Adams. "This survey produces critically important data to help understand the social attitudes that reinforce this discrimination and isolation. It's an invaluable first step toward breaking through the invisibility and focusing attention on the needs of these highly vulnerable elders."
To draw attention to LGBT elders and LGBT aging issues, SAGE and partners at IFA launched a call to action asking governments, policymakers, and advocates to make a commitment to address the needs of LGBT elders. The signing ceremony garnered excitement and momentum, with many high-level aging advocates committing to taking tangible action on LGBT aging issues. In a world where the mere existence of LGBT elders is denied in many countries, this movement on the international stage is sure to have a far-reaching impact.
SAGE will continue to work with its global partners to make sure that people like Zeballos are able to live their lives with the dignity and respect they deserve.