Send in the Singers: Sing for Your Seniors and SAGE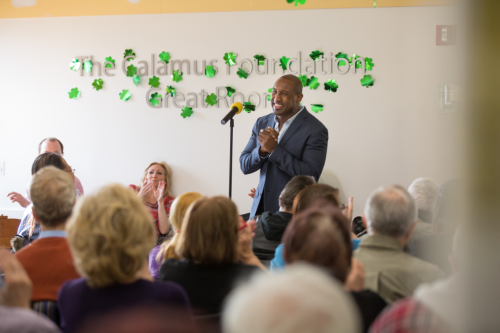 The idea behind Sing for Your Seniors is simple: Singers brighten up the lives of elders in their community by offering free, uplifting musical performances, live and in person. Music not only brings joy—it can also carry therapeutic value, particularly for older adults who show signs of withdrawal, says Jackie Vanderbeck, the organization's founder and producing artistic director. Founded 12 years ago, in 2005, Sing for Your Seniors is a New York–based nonprofit organization that has generously donated much of its time to the LGBTQ+ elders at SAGE. We recently sat down with Jackie and asked her all about Sing for Your Seniors and its strong relationship with SAGE:
SAGE: Hi, Jackie! First things first: What is your personal favorite part of working with Sing for Your Seniors?
Jackie: My favorite part would have to be the connections we make. I love that our artists are getting to know and building relationships with our elder community through the many centers and hospitals we serve. It's not often these two demographics cross paths in the fast-paced bustle of New York City. Through Sing for Your Seniors, we have built a bridge that strengthens our capacity for compassion, understanding, and inclusion.
SAGE: Sing for Your Seniors has performed at SAGE once a month for around five and a half years, so about 65 times! What makes the SAGE crowd unique compared to other audiences?
Sing for Your Seniors visits a large variety of centers and hospitals all over New York, and SAGE is a favorite among our artists because of their enthusiasm and knowledge of the music we share. Many of our audience at SAGE have worked in the Broadway community or grew up appreciating it. So, while at some of the centers I might encourage our group to choose songs from the golden era, at SAGE I tell them to bring it all—the more obscure the better! We like to try and stump the SAGE crowd. Through this mutual love of music and theatrical storytelling, we have gotten to know each other and really have become a family. It's beautiful to see our artists hugging and chatting before our session even begins. It's like a little reunion every time.
SAGE: You've had a number of award-winning Broadway performers volunteer with Sing for Your Seniors, many of whom have come to SAGE. How do you get them on board?
Being a graduate of the University of Cincinnati College Conservatory of Music, I am lucky to have a large network of friends in the entertainment industry, many of whom are performing on Broadway. When I am looking to do one of our Broadway Sessions, board member Daniel Torres or I will reach out to someone we know in a particular show to see if they'd like to participate. When possible, we pair a show whose message is poignant to a particular community we serve. For example, I was very passionate about bringing Fun Home to SAGE. Fun Home is the first Broadway musical to have a lesbian protagonist, and I wanted the folks at SAGE to have the opportunity to see what their generation paved the way for. In that session, SAGE enjoyed performances from several members of the original cast, including Tony Award winner Judy Kuhn and Tony Award nominee Beth Malone. Accompanying them on piano was musical director Chris Fenwick, fellow CCM alum and friend, who jumped at the chance to bring the show to SAGE.
We have had cast from 15 shows participate since starting the Broadway Sessions program in 2012. SAGE has received four, with performances by Kinky Boots, Cats, Fun Home, and most recently, War Paint.
SAGE: Beautiful! Any final thoughts?
Performing with Sing for Your Seniors is very freeing for artists in an industry that is still very much developing its awareness for inclusion. Artists can come to our sessions and share with an audience any song they desire without having to think twice about whether or not they are the "right" gender identity, ethnicity, age, sex, or sexual orientation—or simply look the way a character has traditionally been portrayed. By giving artists a space to explore and strengthen their craft in a setting that celebrates all perspectives, not only is it beautifully impactful to our performers and our audiences, but my hope is that we are fostering a louder voice in the inclusion movement.  —Daniel Kessel
Sing for Your Seniors is a New York–based nonprofit organization founded in 2005. You can follow them on Facebook, Twitter, and Instagram.