Saying Goodbye to Our Mother
SAGE CEO Michael Adams's poignant and empowering message delivered at LGBTQ+ icon Edie Windsor's memorial service in New York City on September 15, 2017. You can view a video of the memorial service here. The service starts at the 30 minute mark.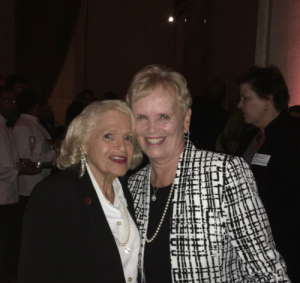 Since I learned the news of Edie's passing on Tuesday, I've been carrying around a beautiful picture of Edie and my mom, taken at last year's SAGE Awards gala. I've pondered why, of all the many pictures I have of Edie, it's that photo that I've been clinging to these past few days. Then it came to me: in so many ways, Edie was our mother.
Like mothers do, she made every one of her children feel that they were the apple of her eye. I know, because she made ME feel that way. Always. I'm not one to dwell on whatever I manage to get right; I'm too busy figuring out what I got wrong and how to fix it. But when Edie told me she was proud of me, that meant EVERYTHING to me, as if my own mother had told me. Because in a powerful way that I can't quite explain, Edie mothered me. My amazing Mom who is in that picture with Edie raised me up as a child to be the person I am, for better and for worse. But it was Edie who raised me to do my best for our beloved LGBTQ+ community. She taught me so much. She inspired me. She made me smile and made my heart beat on the toughest of days.
This is my personal story about Edie. But it's also our LGBTQ+ community's story, because Edie loved and mothered all of us. Edie once said: "I've been having a love affair with the gay community."  And we all felt her love. Edie was family at SAGE. She served on our Board of Directors for many years, she was a guiding light for the bold community education group Old Queers Acting Up. She was a regular at the SAGE Center. But she had so much love to spread around. She loved my sister LGBTQ+ leaders Glennda Testone and Wendy Stark and so many more. She loved The Center and Callen-Lorde and so many of our community organizations.
Edie gave us her fearless leadership in New York City, across the U.S., and indeed across the world. Her impact was so huge, so widespread. And yet it was so personal, so much about each of us, because she was always on the move, always beside us, always rooted in our community. Whether she was serving as assistant stage manager for Taking Liberties, an amazing lesbian musical supporting Astraea [Lesbian Foundation for Justice], the [National Gay and Lesbian] Task Force, and the [Lesbian Herstory] Archives. Or when she attended the very first conference of Old Lesbians Organizing for Change. Or when she was a marriage equality ambassador for the Empire State Pride Agenda. The list of Edie's activist efforts goes on for pages.
In addition to being our mother and our community leader, Edie was our sage. She wasn't just any fighter for equality and justice. When she teamed up with Robbie Kaplan and the ACLU, Edie was an 83-year-old FIERCE and proud lesbian who brought the Supreme Court to its knees in support of our love, our humanity, and our equality. Our elders at SAGE, who are Edie's contemporaries and many of whom are watching the live stream of this service at the SAGE Center, beamed with pride that glorious day at the Supreme Court because it was ONE OF THEM, a fellow elder, THEIR FRIEND EDIE, who knocked down the walls of bigotry and equality with such grace, wisdom, and fortitude. And then, when Edie met her beloved Judith and fell madly in love, she was again our sage, reminding us that passion and romance can sizzle to life at any age.
Like any good mom, Edie could be stern with her mothering when she needed to be. I still laugh when I remember the rally at Stonewall after the Obergefell victory, which finished the marriage equality work that Edie started at the Supreme Court. There were many speakers at that rally, and in our excitement, many of us weren't so brief. I had offered to accompany Edie because the stage was very high and narrow, without much room for error, and at the time Edie was on some medication that was affecting her balance. After a number of speakers had gone on at some length, Edie leaned over to me and said: "I've been standing here forever, I'm tired, and I need to get off my feet.  So get me on that stage next, or I'm going home." So that's what we did. I was afraid that Edie might fall off the back of the little stage as she was speaking, so I put my arm around her and held her up a little bit. It was the only time I ever did that. The rest of the time – over the many years I've known Edie – it was her love and inspiration and example that held me up. Edie's spirit holds and warms me as I stand here now. I know she's holding up each of us right now.
So thank you, Edie. Thank you for leading us. Thank you for mothering us. Thank you for being our sage. Thank you for your love affair with our community, and for loving each of us.  Thank you to you and Judith for showing us the beautiful bloom of love late in life. We love you more than words could ever express.
— Michael Adams, SAGE CEO