Issue Brief: The High Stakes for LGBTQ+ Older People in the Fulton Case
Publish date:
October 2020
Source:
SAGE, MAP, & CAP
Topics:
Discrimination
,
Legal & Financial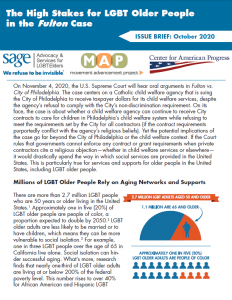 The outcome of Fulton vs. City of Philadelphia, heard by the Supreme Court on November 4, 2020, could dramatically reshape how LGBTQ+ older people, people of faith, unmarried couples, and others access taxpayer-funded aging supports ranging from meal services to home health care to senior centers and residential facilities. This issue brief, created by SAGE, Movement Advancement Project (MAP), and Center for American Progress (CAP), analyzes the case and the potential affects it will have on the aging industry and for aging Americans.
Download the full report to read more.