Facts On LGBT Aging
Publish date:
March 2021
Source:
SAGE, National Resource Center on LGBT Aging
Topics:
Caregiving
,
Cultural Competency
,
Discrimination
,
Housing
,
Legal & Financial
,
LGBT Aging
,
Social Isolation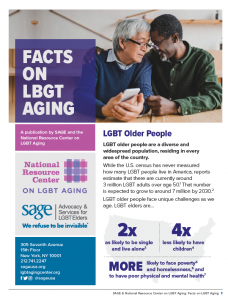 LGBT older people are a diverse and widespread population, residing in every area of the country. While the U.S. census has never measured how many LGBT people live in America, reports estimate that there are currently around 3 million LGBT adults over age 50. That number is expected to grow to around 7 million by 2030. LGBT older people face unique challenges as they age. Get the facts on LGBT aging with our fact-sheet created in partnership with the National Resource Center on LGBT Aging.
Download the PDF for more information.