Fact Sheet: LGBTQ+ Caregiving
Source:
AARP Caregiving Resource Center
Topics:
Caregiving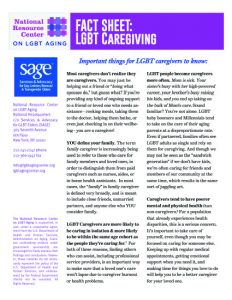 Most caregivers don't realize they are caregivers. You may just be helping out a friend or "doing what spouses do," but guess what? If you're providing any kind of ongoing support to a friend or loved one who needs assistance – cooking meals, taking them to the doctor, helping them bathe, or even just checking in on their wellbeing – you are a caregiver!