Age-Friendly Inclusive Services: A Practical Guide to Creating Welcoming LGBT Organizations
Publish date:
2017
Source:
National Resource Center on LGBT Aging
Topics:
Cultural Competency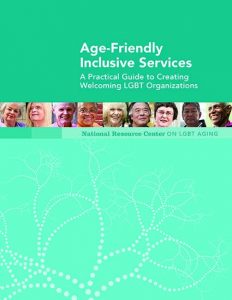 Lesbian, gay, bisexual and transgender (LGBT) older adults are, generally speaking, a resilient population that faces many unique challenges. It is no surprise that today's LGBT elders have faced discrimination, yet many of them have responded to such adversity by building movements to advocate for equal rights, developing their own support systems and communities, and creating "families of choice." According to The Aging and Health Report*, the most comprehensive national health study of LGBT people age 50+ to date, most LGBT older people feel good about the communities they belong to and have at least some social support. Many of them also engage in activities that bolster their health and wellness, such as moderate physical activity, or attending religious services.