LGBT Programming for Older Adults: A Practical Step-by-Step Guide
Publish date:
2017
Source:
National Resource Center on LGBT Aging
Topics:
Cultural Competency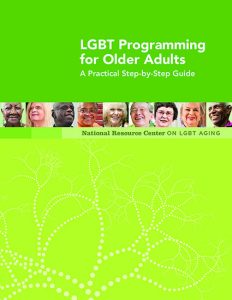 As aging services agencies strive to serve all segments of their communities, the work of many agencies is moving toward a person-centered approach that addresses the needs, values and expressed preferences of individual clients. In this approach, the clients and their families (whether families of origin or families of choice) are considered partners in care. Person-centered care has been shown to improve clients' health and the quality of their care. As stated previously, sexual orientation and gender identity are crucial elements in clients' lives, shaping how they view themselves and their place in the world, and impacting the kinds of services they need as they age. Engaging LGBT older people in their own care is an important part of figuring out how your agency can meet their needs.