2020 Holiday Season Self Care Guide
Publish date:
December 2020
Source:
SAGE
Topics:
Social Isolation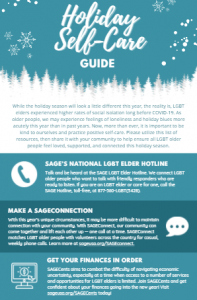 While the 2020 holiday season will look a little different, the reality is that LGBTQ+ elders experienced higher rates of social isolation long before COVID-19. As older people, we may experience feelings of loneliness and holiday blues more acutely this year than in past years. Now, more than ever, it is important to be kind to ourselves and practice positive self-care.
Please utilize this list of resources, then share it with your community to help ensure all LGBTQ+ older people feel loved, supported, and connected during the holiday season.