New Year, New SAGECare Train the Trainer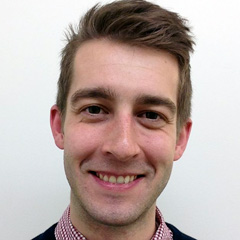 By Tim R. Johnston
This year I'm resolving to double my efforts to train service providers on LGBTQ+ cultural competency. From housing providers to nurses to service coordinators, it's my job to make sure that more people know the "ins and outs" of providing services and care that are welcoming to our community.
That's why SAGE is growing its roster of SAGECare Certified Trainers. Beginning with in-person training and expanding to webinars and on-demand content, SAGE and SAGECare Certified Trainers have trained more than 13,000 providers in all 50 states. A series of rigorous evaluations reveals that SAGE trainings create positive changes in participants' knowledge and attitudes about LGBTQ+ older adults and aging. SAGECare offers trained agencies the chance to earn a SAGECare-branded credential that demonstrates their commitment to LGBTQ+ older adults.
SAGECare Trainers are certified to conduct one- and four-hour in-person trainings. Trainings employ several different teaching methods to help participants develop empathy for LGBTQ+ older adults, learn about LGBTQ+ cultures, and gain the skills needed to provide culturally competent care to LGBTQ+ people. Trainings are challenging, fun, impactful and often emotional. SAGECare is a national program and SAGE invites applicants from all regions, with a special emphasis on New York City, Washington, D.C., Chicago and Los Angeles.
Our next Train the Trainer will be in Chicago from May 23-25, 2017 – do you want to apply? More information, including information on travel costs, how much trainers are paid, and more can be found on the application.
If you can't make the next Train the Trainer event but still want to get involved, another great option is SAGE's National Resource Center on LGBTQ+ Aging's Volunteer Education Ambassador program. Once approved, Volunteer Education Ambassadors are given a presentation they can use to help raise awareness about LGBTQ+ older adults and LGBTQ+ aging. Ambassadors all across the country have presented to local community groups, churches, universities and conferences.
When I conduct a training people often say, "LGBTQ+ aging—I've never thought about that!" Join me and help SAGE make 2017 the year that makes LGBTQ+ aging and LGBTQ+ older adults a top priority. Say it with me: "LGBTQ+ aging, yes I care about that!"
Click here to apply for SAGECare's next Train the Trainer event.