Long-Term Care Administrators and LGBTQ+ Aging Training
By Tim Johnson, Director of National Projects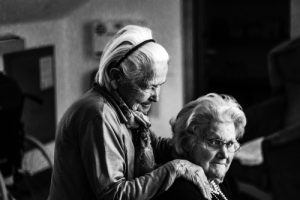 In my capacity leading the day-to-day activities of SAGECare—which provides training and consulting on LGBTQ+ aging issues to service providers—and as a trainer myself, I have had the pleasure of working with administrators across the country.
After years spent leading our training efforts, I am certain that creating an inclusive environment for LGBTQ+ older adults requires instruction, partnership, and—importantly—support from administrators.
SAGECare's goal is to make sure that LGBTQ+ older adults and their loved ones are treated with respect no matter where they live. One way we accomplish this is by training every staff person working in a long-term care community. This training is essential, but it's also just the first step. It is the leadership of ally administrators (and their teams) that takes the training and bakes it into the culture of a community and of its staff.
That is why I am thankful for administrators who go above and beyond to put in the time, energy, and effort it takes to make sure that their staffs have the skills and knowledge to affirm LGBTQ+ elders.
As a division of SAGE, SAGECare is part of the country's largest and oldest organization dedicated to improving the lives of LGBTQ+ older adults. Visit sageusa.care for more information on SAGECare's LGBTQ+ aging training.