LGBTQ+ Elder Week Of Action!

Calling all LGBTQ+ advocates and allies! Let's pass the Equality Act.
Currently, 28 states don't have any laws protecting LGBTQ+ people from discrimination, despite 70% of Americans believing that all people, including LGBTQ+ communities, should be able to live free from discrimination.
Discrimination is especially harmful to LGBTQ+ elders, who can still face harassment in or rejection from food pantries, senior centers, and other government-funded aging programs and public spaces. These LGBTQ+ elders are the very people who stood up, spoke out, and refused to be invisible 50 years ago at the Stonewall Inn. Today, they are still fighting for equality. They can't wait any longer.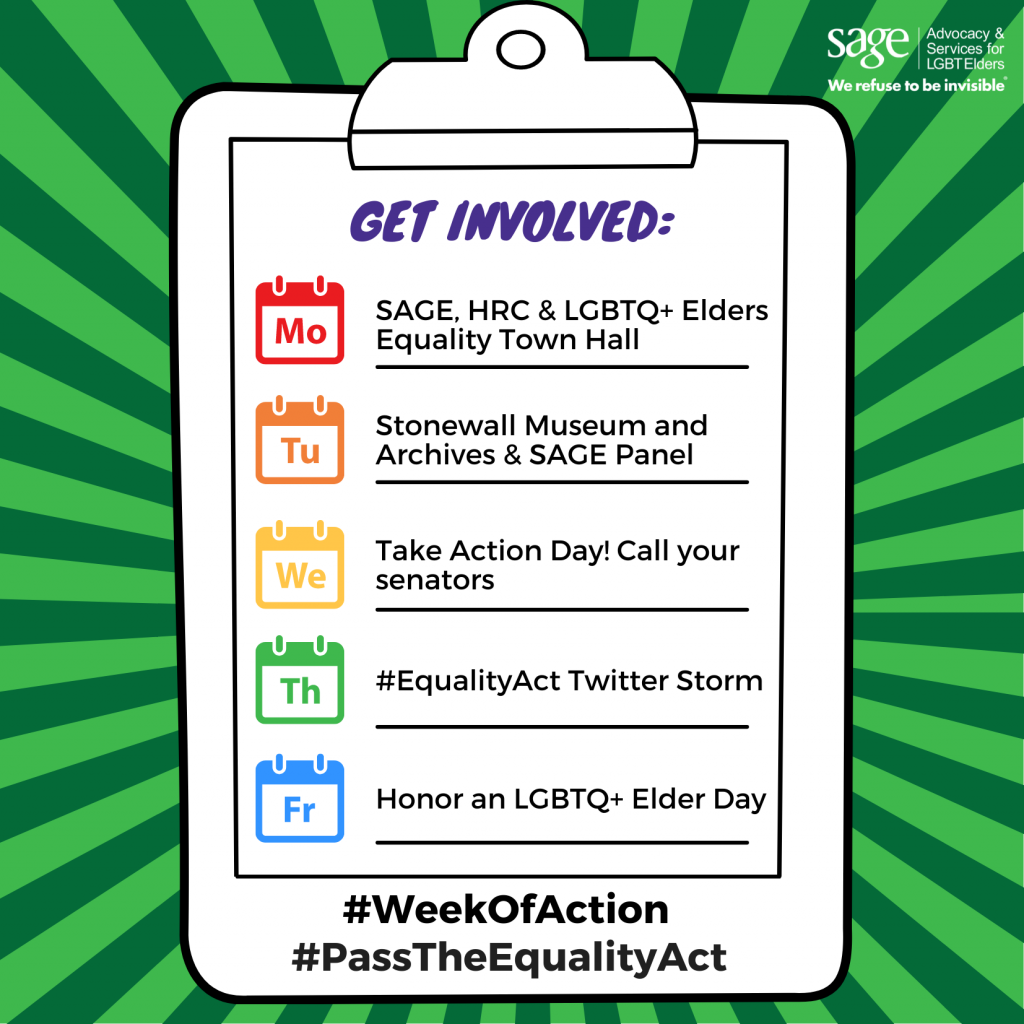 We have an opportunity to rally behind our pioneers and ensure that no one is denied a home-delivered meal, harassed in a ride-share, or turned away from a senior center.
Help us pass the Equality Act through the Senate.
Join us for our LGBTQ+ Elders Week of Action September 13 – 17 in honor of the pioneers who started our movement for equality.
Get involved!
The simplest and most effective way to make a difference is to call your senators and tell them that you support the Equality Act. Over 900 people have already used our online tool so help us reach 1000! Sign up below to access your senators' phone numbers as well as a sample script! Every story is different and every voice matters. Call your senators today.
For those who have already called their senators or are looking for additional ways to support the community, you can:
Attend an event!
SAGE, HRC & LGBTQ+ Elders Equality Town Hall
Monday, Sept. 13 | 6 pm ET
Tune in on Facebook (@SAGEUSA) to an engaging discussion with LGBTQ+ elder activists and leading advocacy organizations fighting to pass the Equality Act. No registration is necessary.
We've Waited Long Enough: Why LGBTQ+ Elders Need the Equality Act
Tuesday, Sept. 14 | 6:30 pm ET
Join Stonewall Museum and Archives and SAGE's Advocacy Team for a conversation about the need to pass the Equality Act, and how it will impact LGBTQ+ elders. REGISTER HERE
Join our #EqualityAct Twitter Storm
We don't know exactly when the Senate will vote on the Equality Act, so we're raising our voices on every platform possible until they do! Join our Twitter Storm on Thursday, Sept. 16 by sharing why the Equality Act is important to you and tagging your senators!
Here are a few sample Tweets if you need inspiration! Take a look at our social media toolkit, or right-click to copy the photos and use this text:
Proud to join @SAGEUSA's #WeekOfAction! @[SENATOR-HANDLE], the #EqualityAct is important to me because I believe EVERYBODY deserves to age with dignity. Please represent the voices of your constituents by voting to #PassTheEqualityAct. #EqualityActNOW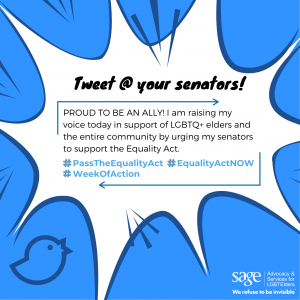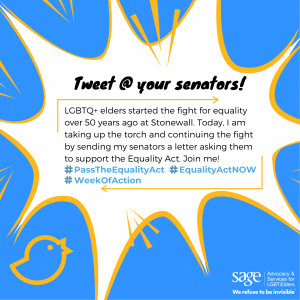 Volunteer at our Textbank For Equality
Already called your senators in support of the Equality Act? Take your activism to the next level and help us mobilize others in the community by volunteering from the comfort of your own living room. REGISTER HERE
Honor an LGBTQ+ elder in your life
Find some time on Friday, Sept. 17 to honor an LGBTQ+ elder you know, love, or look up to! You can:
Ask an elder in your life about their story.
Take a few minutes to learn something new about LGBTQ+ history.
Share on social media which LGBTQ+ icons you look up to (don't forget to include the hashtag #WeekOfAction and tag @sageusa!).
Rally your friends and family to do the same!
Help us amplify our work and reach the broader community by asking your friends and family to join the LGBTQ+ Elder Week of Action as well! Talk to your loved ones about why this is important to you, email 3 friends asking them to join SAGE's efforts, direct them to this page or show them this video to spread the word about the importance of the Equality Act: