The data behind fostering intergenerational connections in the LGBTQ+ community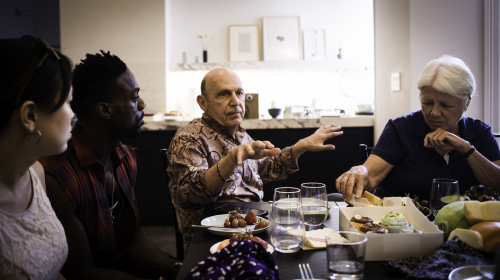 Did you know that only 21.7 percent of surveyed LGBTQ+ people of all ages know who will take care of them when they're older? No one did—until we asked.
In 2016, SAGE conducted a detailed literature review on cross-generational LGBTQ+ relationships and uncovered a distinct lack of research and methodology on intergenerational community building. In order to bring to understand the unique issues faced when fostering multigenerational LGBTQ+ communities, we launched SAGE Table in the spring of the following year. Thanks to the partnership of social-science firm interstitio and support from AARP, we were able to devote time to rigorous research and analysis in order to make our learnings available to all.
Read and download the research summary of our pilot program to convene intergenerational groups in the service of fostering connections and building community within different age groups of the LGBTQ+ family. It is SAGE's hope that creating resources like this one will allow communities of LGBTQ+ people and allies anywhere to develop intentional intergenerational events and build bridges within our communities, no matter where we are.
If you have thoughts or questions on our research, don't hesitate to reach out to us at engagement@sageusa.org.