SAGEMatters Spring 2016: Our Stories, Our Voices
SAGEMatters Spring 2016: Our Stories, Our Voices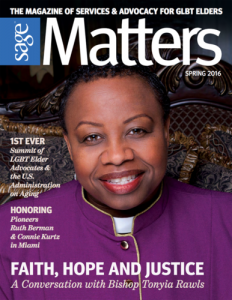 SAGE is proud to lead the charge on behalf of LGBTQ+ older people, whose stories are most powerful when LGBTQ+ elders themselves tell them. In this issue you'll hear an extraordinary array of voices.
The cover features Bishop Tonyia Rawls—a religious leader whose Charlotte congregation is part of Unity Fellowship Church, which was born from a need to minister primarily to LGBTQ+ African Americans during the height of the AIDS crisis. For the third year in a row, Bishop Rawls enlisted members of Charlotte's faith community to participate in the SAGE storytelling Summit, which harnesses the power of stories to advance anti-discrimination efforts in North Carolina. In this issue, Bishop Rawls talks about working with clergy in North Carolina and leveraging those relationships to build a system of mutual respect and hope for LGBTQ+ communities.
You'll also hear from several participants in SAGEWorks, a national employment initiative for LGBTQ+ people 40 and above. This initiative ignites the potential within members of our community who have fallen out of the workforce late in their careers and hare having a hard time getting back in.
We're particularly proud to share a conversation with Ruth Berman and Connie Kurtz, who have transformed countless lives through their work as activists, certified counselors, and founders of chapters of Parents, Friends and Family of Lesbians and Gays (PFLAG) in Florida and New York. Ruth and Connie were recently honored with the SAGE Pioneer Award, which recognizes LGBTQ+ older people who pave the way for LGBTQ+ equality.
And lastly, we're honored to share an essay by Tim Maher, who reflects on his late mother's final days on Fire Island, the LGBTQ+ summer community where his family eventually came to accept him as a gay man. SAGE's cart service made Fire Island accessible to his mother during that time, just as it does for other older people, including those who need assistance moving around the car-free community. Tim's essay is the first in a series of stories about caregiving within our communities.
I hope you're as moved and inspired by these voices as I am. They are the sources of strength, resilience and warmth that enrich our communities, year after year.
Michael Adams
Chief Executive Officer
SAGEMatters is the triannual magazine of Services & Advocacy for GLBT Elders (SAGE). View and download the Spring 2016 issue here.