SAGEMatters Fall 2016: Lives of Boundless Opportunities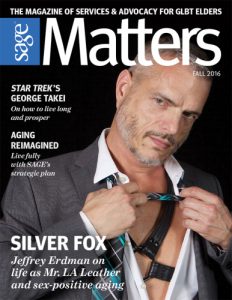 SAGEMatters Fall 2016: Lives of Boundless Opportunities
As we share the latest SAGEMatters with you, we are living through a period of unprecedented change. Perhaps nothing reminds us of this more sharply than this year's high-stakes elections, which have turned long-standing political and social assumptions on their heads.
This theme of change runs powerfully through the features in this issue of SAGEMatters. Inside, you'll find George Takei's take on personal evolution; learn how Jeffrey Erdman has taken the LA leather scene by storm in his 50s; and follow an inspiring conversation with Kate Kendell, Mara Keisling and Carmen Vazquez about the changing landscape of gender identity. You'll also learn how the federal government (after a lot of pushing by SAGE) is moving to transform publicly-funded aging services to make them more LGBTQ+-friendly. Join us in celebrating the realization of a decades-long dream for our communities in New York City, as SAGE announces the construction of the first two LGBTfriendly elder housing communities in the Big Apple. And so much more.
This time of great change and evolution sets the stage for the launch of SAGE's new strategic plan. The overriding goal of the plan is to dramatically expand the impact of SAGE's work so that LGBTQ+ people can grow older with boundless opportunities for growth and enrichment. We believe that we can achieve this transformative vision by tapping into our legacy of "taking care of our own," by building ties across generations, by encouraging communities to become LGBTQ+ age-friendly and by convincing partners of all kinds to get involved. This issue of SAGEMatters includes a special feature on our new plan—we hope you'll be as excited as we are.
For me, all of this has a special personal significance as I celebrate my 10th anniversary at the helm of this amazing organization. I'm so proud of the great progress that we have made together on behalf of our LGBTQ+ elder pioneers. And I'm tremendously passionate about the next chapter of SAGE's work.
I know that as you read through this latest SAGEMatters it will be even clearer to you why SAGE's efforts matter more than ever. Let's keep working together so that all LGBTQ+ elders have the support they need to live lives of boundless opportunity.
Michael Adams
Chief Executive Officer
SAGEMatters is the biannual magazine of Services & Advocacy for GLBT Elders (SAGE). View and download the expanded Fall 2016 issue here.