Understanding Issues Facing LGBT Older Adults
Publish date:
2017
Source:
SAGE, Movement Advancement Project
Topics:
Discrimination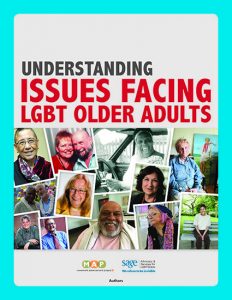 This report seeks to increase understanding of the unique needs and experiences of LGBT older adults so that service providers, advocates, the aging network,b and policymakers can consider these challenges when serving this population or passing laws that impact older adults and the LGBT community. Health and wellbeing, economic security, and social connections are among the cornerstones for successful aging, yet these are areas in which many LGBT elders face substantial barriers—stemming from current discrimination as well as the accumulation of a lifetime of legal and structural discrimination, social stigma, and isolation. Despite these challenges, many LGBT elders have survived and even thrived. Others struggle with the burdens of poverty and social isolation. Each older LGBT adult carries their own story of pride and silence, of resilience and struggle, of love and loss.