NHI Quarterly Newsletter October 2020
Publish date:
October 2020
Source:
SAGE
Topics:
Housing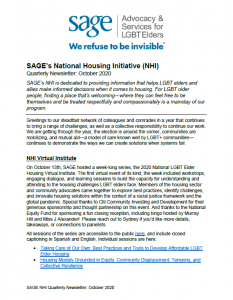 SAGE's National Housing Initiative (NHI) is dedicated to providing information that helps LGBTQ+ elders and allies make informed decisions when it comes to housing. For LGBTQ+ older people, finding a place that's welcoming—where they can feel free to be themselves and be treated respectfully and compassionately is a mainstay of our program. Check out our quarterly newsletter for important updates and information.
Download the PDF for more information.