Health Equity and LGBTQ+ Elders of Color: Recommendations for Policy and Practice
Source:
SAGE
Topics:
Health Care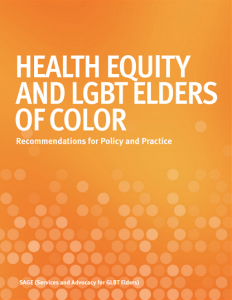 Over the next several decades, our country will grow increasingly older and
more diverse. Consider the following figures:
According to the 2010 U.S. Census, there are more than 40 million adults
aged 65 and older in the U.S., a population that will more than double
over the next four decades.
By 2050, Latino, Black, Asian and Pacific Islander, and American Indian
and Alaska Native people will comprise more than 40 percent of this
elder population.
The number of lesbian, gay, bisexual and transgender (LGBTQ+) older adults will more than double in size to roughly 3 million people by 2050.