HIV and Aging Policy Action Coalition (HAPAC) Strategy Document
Publish date:
September 2021
Source:
SAGE, HAPAC
Topics:
HIV/AIDS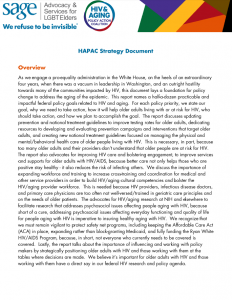 This document lays a foundation for policy change to address the aging of the epidemic and discusses updating prevention and national treatment guidelines in order to improve testing rates for older adults. The document also explores the need for resources to develop and evaluate prevention campaigns and interventions that target older adults, and creating new national treatment guidelines focused on managing the physical and mental/behavioral health care of older people living with HIV.
Download the PDF for more information.