Disrupting Disparities: Solutions for 50+ LGBTQ+ Illinoisans
Publish date:
October 2021
Source:
SAGE & AARP Illinois
Topics:
Caregiving
,
Cultural Competency
,
Discrimination
,
Health Care
,
LGBTQ+ Aging
,
Social Isolation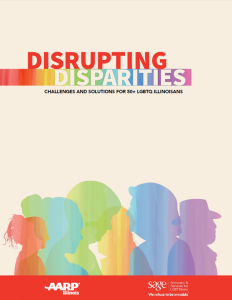 Although a key part of Illinois' rapidly growing elder population, LGBTQ+ older adults remain largely invisible. Despite their resilience, LGBTQ+ older adults face significant disparities that are rooted in discrimination based on sexual orientation and gender identity, racism, a lack of legal and social recognition, a reliance on chosen family, reduced access to inclusive services, and other social determinants of health and well-being.
This report seeks to:
1) Identify the disparities faced by Illinois' 50-plus LGBTQ+ population
2) Develop concrete policy solutions to address these disparities
Download the full report to learn more!