Are you the same-sex surviving spouse of a deceased veteran? You may be eligible for benefits!
Publish date:
December 2022
Source:
SAGE, The Veterans Legal Clinic at Harvard Law's Legal Services Center, NYC Department of Veterans' Services, & Minority Vets
Topics:
Legal & Financial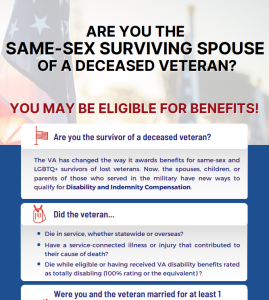 In 2022, the Department of Veterans Affairs changed the way it awards benefits for same-sex and LGBTQ+ survivors of lost veterans., expanding the ways that dependents of those who served in the military can qualify for Disability and Indemnity Compensation. This resource discussed eligibility criteria and what to do if you are (or are not sure if you are) eligible!
Download the PDF for more information.