Our LGBTQ+ Community is an Intergenerational Community
Any attack on the young affects us all.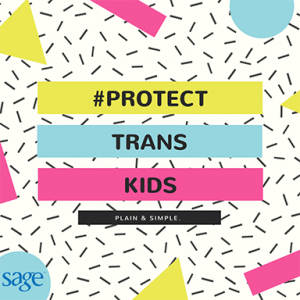 SAGE (Services and Advocacy for GLBT Elders) stands against the Trump Administration's repeal the Department of Education's Title IX guidance advising federally-funded educational institutions on respecting students' gender identity.  The LGBTQ+ community is an intergenerational community. Attacks on the young affect us all.  Elders stand with young people in opposition to federally-endorsed discrimination.  Restrictions on access to education harm people of all ages, including older people, especially given the rapidly growing numbers of older Americans seeking to continue their education later in life.  Today's action signals the Administration's willingness to attack clear legal precedent protecting transgender people not only in education, but also in housing and healthcare.  And it sends a harmful and stigmatizing message to trans people of all ages.  Whether it's housing, healthcare, or education, we should be reducing barriers for transgender people, not erecting new ones.
In solidarity with other advocates who oppose Title IX, SAGE has signed on as a sponsor of tonight's Rally to Oppose Trump's Attack on Trans Students in protest of the decision.